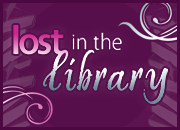 Please welcome Jen of
Lost in the Library
to Alison Can Read. Check out Jen's blog! She is not actually a librarian, but you'd never know it with all her great book reviews and recommendations.
Twilight ARC and Meeting Stephenie!
Before
Twilight
by Stephenie Meyer was published I worked for a well know book store in Canada and was part of a committee that reviewed and recommended books online and in-store.
Twilight
was sent to me by the publisher as an ARC and from the first two pages in I knew I was reading something special. I devoured it in a sitting and reviewed for the book store and began talking about it to everyone! I mean how could I not!? I emailed Stephenie right after reading it and told her how much I loved Bella & Edward's Story and how I could not wait for more!
I received a reply from her (by email) on my birthday, that thanked me for my enthusiasm and talked a bit about where she was heading with the next book. (I still have the email in my scrapbook)
Two years later, the popularity for the series had exploded!
Eclipse
was due to come out and Stephenie Meyer was scheduled to appear at Indigo Yorkdale. It was my birthday again (coincidence –I think not ) The line was incredibly long and after a 4 hour wait I stepped up to meet her and get my books signed. And do you know what I said? I cried. Totally blabbered. I so wanted to say something intelligent and witty and fun so then she would think I was fabulous and want to be my new BFF! But I blabbered instead She was sweet, and said thank you. Signed my books, and now they sit on my shelves. I re-read them every summer, or every time I'm in a reading slump. Or every time, I need to get away.
Jen
www.lostinthelibrary.com