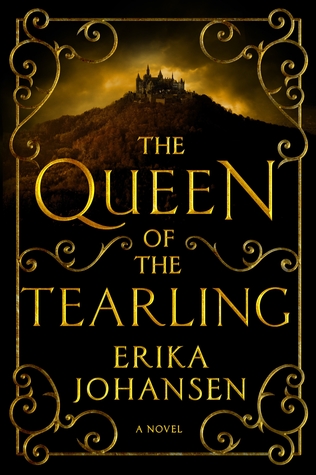 The Queen of the Tearling by Erika Johansen

Release Date:
July 8, 2014

Publisher:
Harper
Source
: BEA
Summary
On her nineteenth birthday, Princess Kelsea Raleigh Glynn, raised in exile, sets out on a perilous journey back to the castle of her birth to ascend her rightful throne. Plain and serious, a girl who loves books and learning, Kelsea bears little resemblance to her mother, the vain and frivolous Queen Elyssa. But though she may be inexperienced and sheltered, Kelsea is not defenseless: Around her neck hangs the Tearling sapphire, a jewel of immense magical power; and accompanying her is the Queen's Guard, a cadre of brave knights led by the enigmatic and dedicated Lazarus. Kelsea will need them all to survive a cabal of enemies who will use every weapon—from crimson-caped assassins to the darkest blood magic—to prevent her from wearing the crown.
Despite her royal blood, Kelsea feels like nothing so much as an insecure girl, a child called upon to lead a people and a kingdom about which she knows almost nothing. But what she discovers in the capital will change everything, confronting her with horrors she never imagined. An act of singular daring will throw Kelsea's kingdom into tumult, unleashing the vengeance of the tyrannical ruler of neighboring Mortmesne: the Red Queen, a sorceress possessed of the darkest magic. Now Kelsea will begin to discover whom among the servants, aristocracy, and her own guard she can trust.
But the quest to save her kingdom and meet her destiny has only just begun—a wondrous journey of self-discovery and a trial by fire that will make her a legend…if she can survive.(courtesy of Goodreads)
Review
How often does a debut novel get loads of hype plus a movie deal a full year before it's published?
The Queen of the Tearling
has been THE book to read for a very long time. I was so excited to pick it up at BEA. While it's not the best book I've ever read, I really enjoyed it and eagerly look forward to both the next book and the movie.
The basic plot is that Kelsea is the Tearling queen, sheltered away her entire life. She comes to take the throne at age 19. She's lucky to survive her coronation, but she soon discovers that thanks in part to her flighty, cowardly mother that her kingdom is hampered by corruption and acquiesces to trading its own citizens in slavery. Kelsea is determined to stop all this, even if it means war or her own death.
Seeing that Emma Watson has signed on to play Kelsea in the eventual movie, comparisons between Kelsea and Hermione are inevitable. They are definitely not the same character, but comparing Kelsea to Hermione is a useful method to describe Kelsea's personality. In many ways, they are similar characters. Both are intelligent and brave. Both are outspoken, although Hermione is probably moreso. Kelsea is more daring than Hermione (although perhaps Hermione would have been more daring if Harry wasn't designated as leader). Both are smart and love books, but unlike Hermione, Kelsea knows when not to rely on books and is better at thinking outside the box. Kelsea has a temper, like Hermione, but is better at keeping a cool head. Both characters are repeatedly described as not being pretty (although with Emma playing both, that won't be the case in the films).
The setting of the novel is puzzling. It reminds me of Star Wars "long ago in a galaxy far, far away." This is set on Earth, presumably in Europe. It appears to be in a post-apocalyptic future. Society has somehow reverted to medieval, feudal kingdoms with hardly any technology. You often forget that it's set in the future until you get references to things like (ironically) Harry Potter.
This book is not a page turner. That's not necessarily a compliment or a criticism. For some books, not being a page turner means that it invites lingering over the beautiful plotting or prose. In other books, it means the story is dead boring. Neither was the case here. It was enjoyable enough that I looked forward to seeing what happened next, but also occasionally a bit plodding and overwrought. The book has the potential to be as wonderfully complex with as great a payoff as the greatest high fantasy books. It gets close to that point, but doesn't quite reach it.
I believe this book is considered adult fiction. It could easily be young adult. Kelsea is 19 years old. Other than occasional discussions of breasts and sex, the content is no different than what I'd see in a YA novel (of course, sex is prevalent in many YA novels but a few sentences in this book had a more grown up feel). Still, those scenes don't predominate the book. I think this book will appeal to anyone age 13 and up.
If you're looking for romance, look elsewhere. I believe that romance will come in future volumes (I see two possibilities). But right now, the focus is on creating a kick-ass leading lady who has some vulnerabilities and uncertainties, but is also every inch a leader. By the end of
Queen of the Tearling
, both her subjects and her readers respect Kelsea as a strong, intelligent queen who stands up for what's right, no matter the cost. If this kind of character appeals to you, you have to read this book. You will not be disappointed.
Recommendation: Buy
Here's How to Buy the Book!