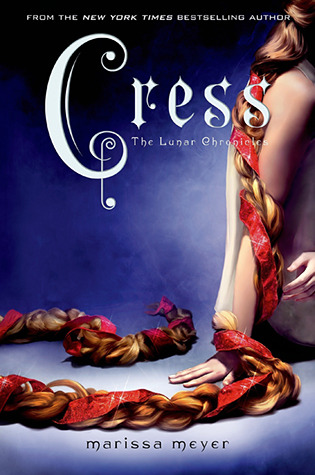 Cress by Marissa Meyer

Release Date:
February 4, 2014

Publisher:
Feiwel & Friends
Source
: Bought (Audio)
Summary
In this third book in the Lunar Chronicles, Cinder and Captain Thorne are fugitives on the run, now with Scarlet and Wolf in tow. Together, they're plotting to overthrow Queen Levana and her army.
Their best hope lies with Cress, a girl imprisoned on a satellite since childhood who's only ever had her netscreens as company. All that screen time has made Cress an excellent hacker. Unfortunately, she's just received orders from Levana to track down Cinder and her handsome accomplice.
When a daring rescue of Cress goes awry, the group is separated. Cress finally has her freedom, but it comes at a high price. Meanwhile, Queen Levana will let nothing prevent her marriage to Emperor Kai. Cress, Scarlet, and Cinder may not have signed up to save the world, but they may be the only hope the world has. (courtesy of Goodreads)
Review
The Lunar Chronicles
is a must read if you like science fiction. It's also a must read if you don't like science fiction. Every book features strong girls, hot guys, and lots of action. Plus a fairy tale retelling! What more could you want?
Cress
continues the streak of high quality.
I listened to
Cress
on audio. The narration was great and it was easy to follow the story. The problem is, my interest in audio books waxes and wanes. So it actually took me four or five months to finish this book. I listened to the beginning around April, a little more in May, and more than fifty percent on Thursday and Friday. Impressively, I did not have any problem picking the story back up despite the long breaks. This is a compliment to the story, not to my memory - which for most books, is very poor.
A lot of reviewers have complained that Cress is weak compared to Scarlet and Cinder. That's true in a way, but is much more a factor of her childhood. Scarlet was a pilot. Cinder was a mechanic. Cress was stuck as a prisoner, alone in a spaceship, for years. Admittedly, Cinder was a prisoner of a different sort and is a more outwardly strong character, but Cress is rebellious in her own way. Cress also seems weak, because she has all these idealized visions of a prince coming to rescue her and having a HEA. That again is a product of her upbringing. Cress has been so isolated. Her only "friends" are the net dramas she watches, which presumably are like soap operas. That's her only conception of real life. So of course she imagines it do be like fiction.
Cress became strong over the course of this book. She went from expecting Thorne to be everything for her to being someone that Thorne needed to survive. They became a team of equals. She doesn't have the self confidence of the others, but she has a quiet persistence that gets things done.
I felt like this was more of a three part book than Scarlet. Cress was not really the main character. Scarlet, Cress, Cinder - and Kai (so four parts) were given equal time. Scarlet probably got the least amount of time, but that's fine since Cinder and Kai's story is what interests me most. The book flows well, despite telling so many different stories. In fact, I think it's a benefit. Whenever I thought I was getting tired of one story line, another one showed up.
Don't worry about lack of action because Cress is not as outwardly strong as the others. Each of the characters has numerous instances where they have to fight for their lives. The book is consistently exciting. I listened to about 10 hours of the book on Friday (on triple speed) because I couldn't put it down. That meant multiple walks for the dog and lots of Tetris games for me.
If you enjoyed
Cinder
and
Scarlet
, you will like
Cress
just as much. The book sets everything up for Winter. I can't wait to read the next book to get to live in this world a little longer.
Recommendation: Buy
Here's How to Buy the Book!