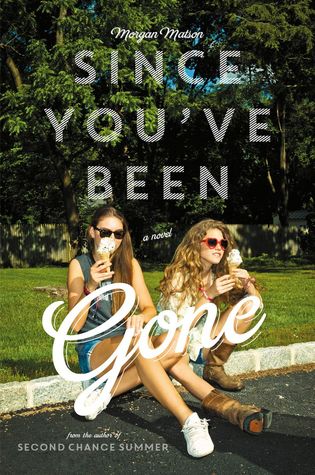 Since You've Been Gone by Morgan Matson

Release Date:
May 6, 2014

Publisher:
Simon & Schuster
Source
: BEA
Summary
The Pre-Sloane Emily didn't go to parties, she barely talked to guys, she didn't do anything crazy. Enter Sloane, social tornado and the best kind of best friend—the one who yanks you out of your shell.But right before what should have been an epic summer, Sloane just... disappears. No note. No calls. No texts. No Sloane. There's just a random to-do list. On it, thirteen Sloane-selected-definitely-bizarre-tasks that Emily would never try... unless they could lead back to her best friend. Apple Picking at Night? Ok, easy enough.Dance until Dawn? Sure. Why not? Kiss a Stranger? Wait... what?
Getting through Sloane's list would mean a lot of firsts. But Emily has this whole unexpected summer ahead of her, and the help of Frank Porter (totally unexpected) to check things off. Who knows what she'll find?
Go Skinny Dipping? Um...(courtesy of Goodreads)
Review
The perfect summer book features the beach and/or a road trip.
Since You've Been Gone
has elements of both! I read Morgan Matson's first book several years ago and adored it. For some reason I never got around to reading her second book. I was really happy that she signed copies of her newest book at BEA, because I've been wanting an excuse to get back to her.
Since You've Been Gone
is just as good as I hoped it would be. Actually even better than the synopsis made it sound. The synopsis is all about checking off items on a list. And that is ostensibly what the book is about, but really it is so much more. Self-discover, friendship, romance.
Emily was a great character. She is a stereotypical YA teen - quiet, shy, and cautious. Still, she didn't feel like a trope, especially since many readers are that way. I liked the normalcy of her character.
I was really curious about Sloane, her friend that abandoned her. Emily played her up to be this idyllic best friend. I was wondering whether she was going to discover that she'd been stabbed in the back. Sloane's background as well as their relationship is developed as the story went on. I was really pleased with how it turned out. Nothing too dramatic. Neither too perfect nor too tragic - a realistic friendship.
Sloane's list changes Emily's life in ways Sloane likely never expected. She ended up with a new cohort of friends: Frank, Dawn, and Collins, which is something she hadn't had before in her Sloane-focused life. I adored Frank. All Emily knows of him is that he's a high-achieving do-gooder who always has a smile on his face and a helping hand. The real Frank is much more. Funny, goofy, and a little troubled all wrapped in an honest, kind-hearted package. This is the kind of guy every girl should want. Too bad he has a girlfriend...
Emily's family also play an important role in the book. Fulfilling another YA trope, her parents are got out of the way by the fact that they are immersed in writing a play the entire summer. But it's clear from flashbacks and even the tiny moments she has with them during the summer that they are normally engaged, loving parents. Her daredevil little brother Beckett was adorable. I enjoyed every page where he was present.
None of the things on Sloane's list are too crazy for a teenager to do. And none of the events in the book are that out of the ordinary. I love finding writers who can create a story out of relatively normal lives with normal people and make it delightful and compelling.
Since You've Been Gone
was a wonderful read. I was sad to leave it.
Recommendation: Buy
Here's How to Buy the Book!