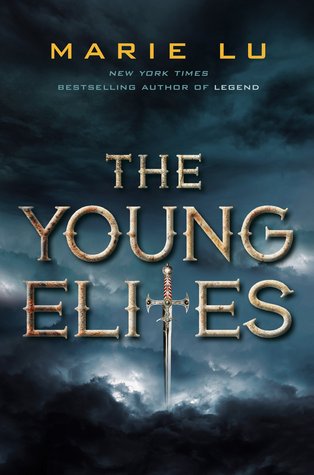 The Young Elites by Marie Lu

Release Date:
October 7, 2014

Publisher:
Putnam Books for Young Readers
Source
: Publisher
Summary
I am tired of being used, hurt, and cast aside.
Adelina Amouteru is a survivor of the blood fever.
A decade ago, the deadly illness swept through her nation. Most of the infected perished, while many of the children who survived were left with strange markings. Adelina's black hair turned silver, her lashes went pale, and now she has only a jagged scar where her left eye once was. Her cruel father believes she is a malfetto, an abomination, ruining their family's good name and standing in the way of their fortune. But some of the fever's survivors are rumored to possess more than just scars—they are believed to have mysterious and powerful gifts, and though their identities remain secret, they have come to be called the Young Elites.
Teren Santoro works for the king.
As Leader of the Inquisition Axis, it is his job to seek out the Young Elites, to destroy them before they destroy the nation. He believes the Young Elites to be dangerous and vengeful, but it's Teren who may possess the darkest secret of all.
Enzo Valenciano is a member of the Dagger Society.
This secret sect of Young Elites seeks out others like them before the Inquisition Axis can. But when the Daggers find Adelina, they discover someone with powers like they've never seen.
Adelina wants to believe Enzo is on her side, and that Teren is the true enemy. But the lives of these three will collide in unexpected ways, as each fights a very different and personal battle. But of one thing they are all certain: Adelina has abilities that shouldn't belong in this world. A vengeful blackness in her heart. And a desire to destroy all who dare to cross her.(courtesy of Goodreads)
Review
The Young Elites
is my first Marie Lu book. I've been meaning to read her books for years. My husband loved the entire
Legend
series, but I never got around to it. I was fortunate enough to get a review copy of
The Young Elites
and used that as my opportunity to finally get to Marie's books. If the
Legend
series is as good as
The Young Elites
, I definitely need to read it!
Although this book is told from the perspectives of three characters, Adelina is clearly the focus. The book begins with her pending burning at the stake by the government both for being a malfetto and also for an accident her powers caused. As one might expect, she doesn't actually die in the first chapter - she ends up with a group of rogue malfettos bent on ending the malfetto stigma and overtaking the government. This group is led by the handsome Enzo. But the inquisition, led by Teren is only a few steps behind.
My first concern of featuring a girl and two boys was the inevitable love triangle. Fear not, there is no love triangle. Nor are there any hints of one developing in the future (although I still wouldn't be too surprised). In this book, Enzo is the handsome, charismatic leader that Adelina admires and Teren is her cunning, cruel blackmailer.
One thing I particularly like about the story is that none of the three characters are entirely good or bad. Adelina is the closest to being pure good. She has lived a life of loveless torture under her father while her spoiled younger sister stood to the side watching. Still, she will do anything to protect Violetta. She wants to be accepted, but most of all she wants to survive. On the other hand, Adelina has a lust for power. With her newfound powers and her ambition, I think she may have a capability for cruelty that even she does not realize yet.
As for the boys, Enzo is the obvious hero and Teren is the obvious villain. But both are equally arrogant, vain, and ambitious. Both are charismatic and influential in their own ways. Even Teren, whose daily purpose is to destroy the malfettos, has reasons for what he does that are somewhat understandable. Just like Adelina, neither character is all good or all bad. Which just makes me want to keep reading to get to know them better.
There are a number of side characters, only two of whom (possibly three) seemed well-developed. My favorite was Raffaele, who serves as Adelina's daily trainer and protector. He introduces her to life among the Young Elites and is the rock she leans on. However, he is a consort, accustomed to charming and hiding his feelings. I loved him, but also questioned early on whether Adelina should trust him. Adelina's sister Violetta is a beautiful, pampered weak child who watched Adelina be abused for years without comment. She seems like a character easy to hate, but Adelina loved her (and hated her a bit too). I came to do the same. The possible third is the queen, who we don't get to know well. She's a delightfully campy villain. She lusts for power and for everything else. She thinks she's the smartest person in the land, but she probably is not.
You can tell that this book is the first in a series. It has a cohesive story with an exciting plot and it does not end in a cliff-hanger. However, I couldn't shake the feeling that a lot of it was set up. Especially the boys. We get to know them in this book, but only at a surface level. I have no doubt that their stories and relationship with Adelina will change greatly as the series goes on.
The Young Elites
is a wonderful first book in a series. The strong world building, well developed characters, and readable plot kept me glued to the pages. With its constant excitement and quasi-medieval setting, it's a win for anyone who loves thrillers and/or high fantasy.
Recommendation: Buy
Here's How to Buy the Book!