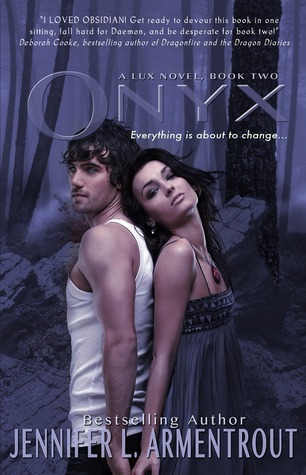 Onyx by Jennifer Armentrout

Release Date:
August 14, 2012

Publisher:
Entangled Teen
Source
: BEA
Summary
Being connected to Daemon Black sucks…
Thanks to his alien mojo, Daemon's determined to prove what he feels for me is more than a product of our bizarro connection. So I've sworn him off, even though he's running more hot than cold these days. But we've got bigger problems.
Something worse than the Arum has come to town…
The Department of Defense are here. If they ever find out what Daemon can do and that we're linked, I'm a goner. So is he. And there's this new boy in school who's got a secret of his own. He knows what's happened to me and he can help, but to do so, I have to lie to Daemon and stay away from him. Like that's possible. Against all common sense, I'm falling for Daemon. Hard.
But then everything changes…
I've seen someone who shouldn't be alive. And I have to tell Daemon, even though I know he's never going to stop searching until he gets the truth. What happened to his brother? Who betrayed him? And what does the DOD want from them—from me?
No one is who they seem. And not everyone will survive the lies…
(courtesy of Goodreads)
Review
The Lux series is a must read for Paranormal Romance fans. It has everything you want. A plucky heroine who can stand her ground. A fascinating paranormal element. And of course - a hot guy. Unfortunately, I have tired of paranormals. I'm still drawn to ones that people love or that sound interesting, but over the past year, they almost always fall flat. Books I would have loved the year before are not as good. So this book was only middling for me, but from an objective viewpoint, it's very good.
Much like the first book, this second installment is very formulaic. First books in a paranormal series usually follow a specific formula. As do second books. This one fit the second book formula perfectly: Something happens that keeps the couple separate from much of the book; a new guy arrives; mucho drama ensues.
Blake is our new boy. It's not exactly a love triangle, but basically it is. It's more of a sexual tension triangle. As expected, Blake and Daemon hate each other. On the bright side, he plays an important role in the plot. Also, Daemon's refusal to call Blake by the correct name provided some amusement.
Even though the plot does follow the standard second book rules, the story kept me entertained. I was even surprised a few times (or I would have been if I hadn't kept flipping to the end because I couldn't take the tension). One thing I really like is that, while there are big bad aliens, the chief enemy is the government. Unlike a lot of paranormals where the supernatural creatures are far superior to humans in every way, these aliens are vulnerable. They have great powers, but in order to survive as a group on Earth, they are at the mercy of the government.
Katy continues to be wonderful. It's hard not to love a book blogger. Now that she's developed some superpowers of her own, she works hard in this book to develop her skills. So she can be a fighter, not a victim. Her friendship with Dee takes a backseat in this book, sadly. Call me unromantic, but I like Katy and Dee buddy scenes better than most Katy and Daemon scenes.
As for Daemon, he's still the strong, protective type with charming snark that can sometimes turn dark. There are a lot of things keeping him and Katy apart during much of the book. But not to worry. There are plenty of smexy times to make up for the separation.
I can't decide if I want to keep going with this series. I don't love it, but it has captured my attention and it is well-written. I may end up finishing it or just skimming the rest. I sure wish my paranormal slump would end.
Recommendation: Borrow. Or if you're sick of paranormals like me, don't bother
Here's How to Buy the Book!