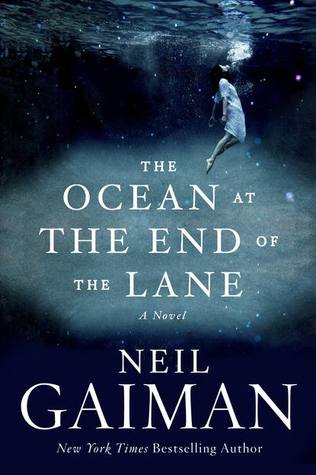 The Ocean at the End of the Lane by Neil Gaiman

Release Date:
June 18, 2013

Publisher:
William Morrow Books
Source
: Purchased
Summary
Sussex, England. A middle-aged man returns to his childhood home to attend a funeral. Although the house he lived in is long gone, he is drawn to the farm at the end of the road, where, when he was seven, he encountered a most remarkable girl, Lettie Hempstock, and her mother and grandmother. He hasn't thought of Lettie in decades, and yet as he sits by the pond (a pond that she'd claimed was an ocean) behind the ramshackle old farmhouse, the unremembered past comes flooding back. And it is a past too strange, too frightening, too dangerous to have happened to anyone, let alone a small boy.
Forty years earlier, a man committed suicide in a stolen car at this farm at the end of the road. Like a fuse on a firework, his death lit a touchpaper and resonated in unimaginable ways. The darkness was unleashed, something scary and thoroughly incomprehensible to a little boy. And Lettie—magical, comforting, wise beyond her years—promised to protect him, no matter what.
A groundbreaking work from a master, The Ocean at the End of the Lane is told with a rare understanding of all that makes us human, and shows the power of stories to reveal and shelter us from the darkness inside and out. It is a stirring, terrifying, and elegiac fable as delicate as a butterfly's wing and as menacing as a knife in the dark. (courtesy of Goodreads)
Review
I consider myself a big Neil Gaiman fan. I've watched TV episodes he's written. I've seen him speak in person twice. I follow his blog. I've read short stories by him. But this is only the third one of his books I've read. That's really a shame, because Neil Gaiman is an author who deserves to be read completely. The Ocean at the End of the Lane is a delightfully creepy, dark, scary, and even a tiny bit heart-warming tale.
One of the things I like best about Neil Gaiman is that he writes fairy tales. By that, I don't mean that his stories have fantastical elements, although they certainly do, but that the voice, the narration feels like a fairy tale. It has a beautiful, timeless quality that makes me want to keep reading, no matter what the plot is.
The story is told through the eyes of a seven year old boy. Gaiman does a fabulous job of describing things as a seven year old would likely comprehend it. He imbues the world with a sense of magic, of innocence, but also of horror and helplessness. This is no children's book despite the age of the narrator.
The most memorable characters of this tale are the Hempstocks - Lettie, her mum, and gran - and the evil Ursula Monkton. Lettie is a wise beyond her years (literally, she's beyond her years) 11 year old who takes the narrator under her wing. For all Lettie's wisdom, her mistakes help get the boy into quite a mess and it's a conundrum of whether he will get out of it. I loved Lettie, but I also loved Ursula, in a different way. She reminds me of Delores Umbridge. Pure evil couched in a sickly sweet manner. She charms everyone in the boy's family, turning them all against him, and makes the boy's life a living hell. To the point where the book became uncomfortable to read. A villain I will not soon forget.
I listened to this book on audio. I think audio is the best way to go for Gaiman's books, especially when he reads them. I love his accent. His soft voice lulls you into the story and always does just the right inflections and emotions.
Of the three Gaiman books I've now read The Graveyard Book is still my favorite, but The Ocean at the End of the Lane is a wonderful book. It's one I could re-read multiples times and still get something out of it.
Recommendation: Buy (preferably on audio)
Here's How to Buy the Book!