Manga Mondays Meme
I've been doing Manga Mondays every week since I started my blog 4 years ago. It started out as a personal feature, but I decided to turn it into a meme last year. There are quite a few people who do Manga Mondays. I don't claim by any means that I owned or created the idea of Manga Mondays - it's an obvious choice given the alliteration. I think a meme is a great way for everyone to publicize their own Manga Mondays and get a little more publicity.
The linky will be below my review.
Skip Beat vol. 33 by Yoshiki Nakamura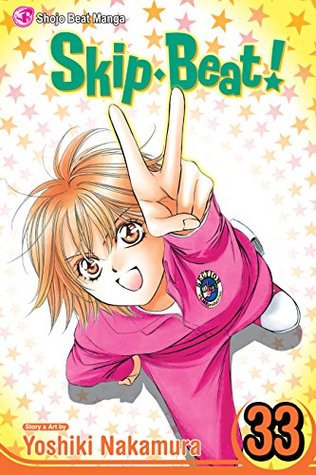 Summary
Kyoko Mogami followed her true love Sho to Tokyo to support him while he made it big as an idol. But he's casting her out now that he's famous! Kyoko won't suffer in silence--she's going to get her sweet revenge by beating Sho in show biz!
Kyoko's twin tasks of keeping Ren from breaking under the strain of his characters and playing Setsuka are starting to take their toll on her. But the real danger is revealed when the desires of Setsuka and Kyoko merge. Can Kyoko stay in character and protect her heart with a half-naked Ren in her bed?! (courtesy of Goodreads)
Review
Kind of an odd volume. Basically Kyoko and Ren spent the whole time coming on to each other in the roles of their characters. But not while they were filming. The whole idea is that they are trying to immerse themselves into the characters at all times. What's weirdest is that the characters are brother and sister. Quite the incestuous relationship.
The whole brother/sister incest thing is nothing new. It's been going on for a few volumes. But I felt like I was hit over the head with it especially hard in this volume. The whole point of this seemed to be the extreme tension between Kyoko and Ren, supposedly in character but everyone knows not entirely. Definitely a sexy volume. Nakamura draws the scenes so perfectly to evoke emotion in the reader and lead you hanging on every page. But it still lacks in substance.
Not surprisingly, Kyoko is still completely in the dark that her love for Ren is mutual. At this point, it may take them until volume 50 to consummate their relationship in any fashion. There was a particularly heartbreaking scene where Kyoko imagines being humiliated if her feelings for Ren are revealed. It shows just how severely Sho damaged her psyche and makes me dislike him even more.
Sign up for the Manga Mondays Meme!