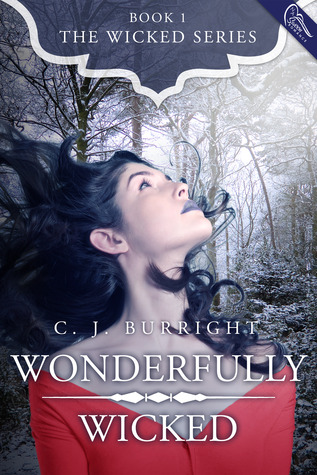 Wonderfully Wicked by C.J. Burright

Release Date:
May 13, 2014

Publisher:
Swoon Romance
Summary
He haunts her dreams and embodies her nightmares…
A dreamcaster with the ability to channel creatures from her nightmares, headstrong and cynical Kalila Montgomery longs for a peaceful, picket-fence life…until the man literally of her dreams kidnaps her. Survival quickly becomes her number one goal, yet a growing attraction to the man featured in her nightmares is impossible to ignore. While she fears he will kill her, other, more terrifying enemies surround her, and Kalila succumbs to his scheme to escape.
She may be his one hope for freedom…
A deadly combination of power, cunning, and cold-hearted charm, Lydon v'al Endrian fears nothing. Feels nothing. Chained to a brotherhood of men with the supernatural ability to invade dreams, he hunts dreamcasters to be harvested for their dreams and killed. His target: Kalila Montgomery. But Kalila awakens an undeniable dark desire and a longing for a freedom long-lost. To gain everything he craves, Lydon must seduce Kalila before his plot is discovered…a hopeless challenge which, if failed, will earn him a death-sentence.
Caught up in a dangerous world of secrets and obsession, doubt and betrayal, Kalila and Lydon face the nightmare of their lives, where love will either deliver them—or destroy them both.
Author Info:
C. J. Burright was born and raised in Oregon and loved it so much she never left. While she has worked for years in a law office, she chooses to avoid writing legal thrillers and instead leans toward urban fantasy, paranormal romance, or—since all things medieval and magic fascinate her—fantasy romance. A member of Romance Writers of America and Secretary for the Fantasy, Futuristic & Paranormal special interest chapter, C. J. also has her 4th Dan Black Belt in Tae Kwon Do and believes stories should always include a gratuitous fight scene. In what spare time she has, she enjoys working out, reading, gardening, and rooting on the Seattle Mariners with a nice glass of wine. She shares a house with her husband, daughter, and a devoted herd of cats.
Guest Post
Please welcome the wonderful C.J. Burright to Alison Can Read!
Thank you for having me on Alison Can Read!
The subject of today's post plays a huge part in Wonderfully Wicked: dreams. Alison requested a dream analysis for either myself or some of the characters in
Wonderfully Wicked
who have normal dreams. No freakin' way I'm doing a dream analysis of myself. I try not to scare people. The V'alkara don't sleep at all, so the boys are out. Which pretty much leaves dreamcaster Kalila Montgomery. Granted, Kalila doesn't exactly have "normal" dreams. Nightmares make up most of her Z-time, but what better fodder for a dream analysis than a nightmare, right?
CJ: So, Kalila, any particular dreams you're having lately?
KM: Beyond the typical bunnies with fangs or blood-sucking butterflies? Or a certain V'alkara trying to either kiss me or kill me? Water. Lots of it.
CJ: Water is supposedly a symbol of the subconscious and emotional state. It represents knowledge, healing, and refreshment.
KM: Refreshment? *snort* Right. Nothing more refreshing than being knocked off your feet by waves.
CJ: You didn't mention waves, Lils. Waves signify potential and power.
KM: Oh, you know me. Always trying to take over the world. But you might be onto something with that one. Potential power as a dreamcaster, I guess, if you believe everything the V'alkara say. Which I don't. But the waves in my dreams are monster tidal waves. What does your research say about that? Dreaming of a wall of water coming at you symbolizes welling emotions and closing yourself off from others—
KM: Yeah. Been there, still doing that.
CJ: —and a rough ocean represents emotional turmoil.
KM: Can you blame me? Lydon stalked me into my favorite coffee shop, broke into my bedroom, and whisked me away into his freaky V'alkara world. Turmoil is a mild way of putting it.
CJ: I'm sure you can handle it.
KM: *mutters something probably best unheard by authors*
CJ: Okay, here's some info on tidal waves. To dream of a tidal wave represents a significant issue in life that needs to be dealt with as soon as possible. If you have been repressing feelings or procrastinating in other matters, you need to open up and deal with issues immediately.
KM: Oh, that's really helpful. The V'alkara want to kill me. I'd say that ranks up there with significant issue. Dealing with it ASAP is a no-brainer, as I'd prefer to stay alive. Dreams suck. They never tell you how to deal with anything.
CJ: I'm sure Lydon will help you "deal."
KM: Leave him out of it.
CJ: A little sensitive on the Lydon issue, aren't you?
KM: Go eat a bon-bon or something.
CJ: Someone has a cru-hush...
KM: Not. And if I want to repress my feelings, that's my business. In fact, I like tidal waves in my dreams. I welcome them. They remind me I can't trust anyone. I'm so done with this post.
CJ: Uh, see you later, Kalila. *whispers* Yep. She's crushing big-time. Hey, I hope you learned a little bit about dreams. Do you have any recurring dreams you want to share? Or crazy dreams? Or maybe you have some insight to share on tidal wave dreams?
GIVEAWAY!
Enter to win some awesome prizes:
Each tour stop is offering up some fun WONDERFULLY WICKED swag, and one lucky grand prize winner will receive a complete swag package along with a $50 gift card from Amazon, iTunes or B&N.
Please enter via the Rafflecopter form. Giveaway is open to US only.
a Rafflecopter giveaway
Here's How to Buy the Book!