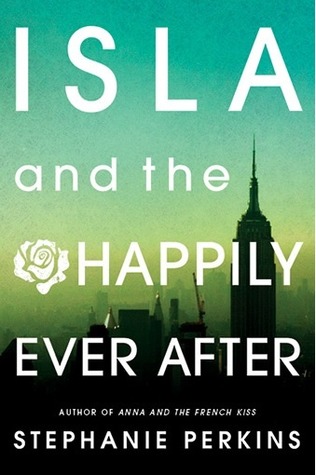 Isla and the Happily Ever After by Stephanie Perkins

Release Date:
August 14, 2014

Publisher:
Dutton
Source
: Purchased
Summary
Love ignites in the City That Never Sleeps, but can it last?
From the glittering streets of Manhattan to the moonlit rooftops of Paris, falling in love is easy for hopeless dreamer Isla and introspective artist Josh. But as they begin their senior year in France, Isla and Josh are quickly forced to confront the heartbreaking reality that happily-ever-afters aren't always forever.
Their romantic journey is skillfully intertwined with those of beloved couples Anna and Étienne and Lola and Cricket, whose paths are destined to collide in a sweeping finale certain to please fans old and new.(courtesy of Goodreads)
Review
After waiting years for
Isla and the Happily Ever After
, I was afraid to read it. What if it didn't live up to my expectations? I'd feel like I was letting down myself, my fellow readers, and Stephanie. And then there's the problem of the fact that once I've read Isla, the series is over, never to be added to again. Such finality.
Thankfully, I really liked Isla. There were things I didn't love about the characters, but the story was wonderful.
As most people know, Isla is the third book in the series that began with
Anna and the French Kiss
. All three books are companion novels, so you can read any of them alone, but it really is best to do them in order. In fact, I'd suggest re-reading
Anna and the French
Kiss first. Josh - the main love interest in this book - is a significant character in the first book. Plus, Isla is mentioned. This book takes place at the same time as
Lola and the Boy Next Door
.
I really liked Isla, more than I liked Anna and Lola. She is more like me than either of them. Quiet and studious. A little aimless. Not the highest self-esteem. Very loyal to and protective of her best friend Kurt, who has Aspergers.
Josh too is a cool guy. He's kind. He's brilliant, but in that rebel James Dean way. He loves romantic grand gestures. He's an "artist," with all the stereotypical volatility. A slight problem formed in that Josh is not a person I would ever be attracted to - unlike Etienne and Cricket.
I didn't really like Josh and Isla's romance. This again is due to me projecting. I am not a person who loses their head into love. It had an insta-love feel to it - which wasn't the case since they'd known each other for years - but Isla and Josh dived in so quickly and so completely, that I was turned off. I would not do that or advocate that anyone else do that, so it was hard for me to enjoy their burgeoning romance.
I also didn't like the person Isla became when she dated Josh. Her basic insecurity translated into jealousy, nagging, and constant questioning. I particularly disliked a freak-out she had in the middle of the book that (while not completely unwarranted) made her seem like a cruel, envious, thoughtless hag.
It's good that I re-read
Anna and the French Kiss
before reading
Isla and the Happily Ever After
. Otherwise, I would have forgotten that there were parts of
Anna
that I didn't like. And definitely parts of
Lola
I didn't like. It made it easier to appreciate the book as a whole rather than focus only on my pet peeves.
What I like about
Isla and the Happily Ever After
as a whole is that it is a book with three dimensional characters. I don't think we are supposed to like Isla's actions with Josh. I don't think we are supposed to like Josh's rashness and devil-may-care-attitude. But it makes the story much more realistic than a book about two perfect people with a perfect relationship. Plus, the pay-off is better when everyone grows.
Also, it can't hurt that this is set in three cities I love: Paris, New York, and Barcelona. I haven't been to Paris in a long time, but I go to New York every year and I was in Barcelona two years ago. I adored both cities and recognized many of the references in the book.
Isla and the Happily Ever After
is a sweet story of a very teenager-y romance. It did not equal
Anna and the French Kiss
in my esteem, but as contemporary YA romances go, it still surpasses the vast majority.
Recommendation: Borrow first. If you love it, then buy it.
Here's How to Buy the Book!