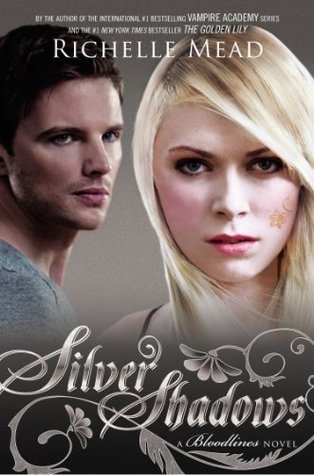 Silver Shadows by Richelle Mead

Release Date:
June 29, 2014

Publisher:
Razorbill
Source
: Purchased
Summary
Sydney Sage is an Alchemist, one of a group of humans who dabble in magic and serve to bridge the worlds of humans and vampires. They protect vampire secrets—and human lives.
In The Fiery Heart, Sydney risked everything to follow her gut, walking a dangerous line to keep her feelings hidden from the Alchemists.
Now in the aftermath of an event that ripped their world apart, Sydney and Adrian struggle to pick up the pieces and find their way back to each other. But first, they have to survive.
For Sydney, trapped and surrounded by adversaries, life becomes a daily struggle to hold on to her identity and the memories of those she loves. Meanwhile, Adrian clings to hope in the face of those who tell him Sydney is a lost cause, but the battle proves daunting as old demons and new temptations begin to seize hold of him. . . .
Their worst fears now a chilling reality, Sydney and Adrian face their darkest hour in this heart-pounding fifth installment in the New York Times bestselling Bloodlines series, where all bets are off.(courtesy of Goodreads)
Review
I read
Silver Shadows
back in August and just realized that I never wrote a review for it. Time to rectify that mistake. I am a
Bloodlines
addict. As with each book in the series, I was chomping at the bit to get this book. And it did not disappoint.
The
Bloodlines
series is laid out very similarly to Vampire Academy, although the stories are quite different. The fifth
Vampire Academy
book was my least favorite in the series. While I really liked
Silver Shadows
, it probably is also my least favorite in the series thus far.
As soon as I finished the first book in this series, I predicted the layout for each subsequent book. I was almost positive that I knew what would happen at the end of
Fiery Heart
and throughout
Silver Shadows
. I was mostly right. That's not necessarily a bad thing. I have a plotline that I *want* Sydney and Adrian to follow, and I'm pretty pleased that they're following it.
Sydney and Adrian are separated for most of
Silver Shadows
. She is stuck in re-education and he is stuck with his own demons. And a potential love triangle. Eeeeeeeek!
I loved the description of the re-eduation center. I was sure Sydney would end up being re-educated at some point, but couldn't imagine what it was like. Richelle did a wonderful job of creating a vivid, truly awful place - far worse than I'd imagined. The world-building was really great in this novel.
Not to worry Sydrian lovers. Although our favorite couple is separated for much of the book, there are still several smexy scenes. In fact I got tired of them after awhile. Lately I feel like a lot of YA books are throwing in some hot and steamy scenes that get the heartrate up, but mostly just get in the way of the plot. There's so much interesting going on in this world that I often wished that Sydrian would keep their hands to themselves. But I think I'm in the exception on that.
Back to the predictability, I thought it was handled wonderfully. Everything I wanted to happen did happen. And the things I did not want to happen did not happen. And there were a few surprises thrown in. The kind that I wasn't expecting but when I stopped to think about it, they were pretty obvious plot twists. But fun nevertheless.
Silver Shadows
is basically everything I wanted it to be. Even though it is not my favorite book of the series, I still really enjoyed it. In fact, the only true complaint that I have is that I have to wait until February for the final book in the series to come out.
Recommendation: Buy if you're a Bloodlines fan. If you're not, go get Vampire Academy and Bloodlines immediately.
Here's How to Buy the Book!