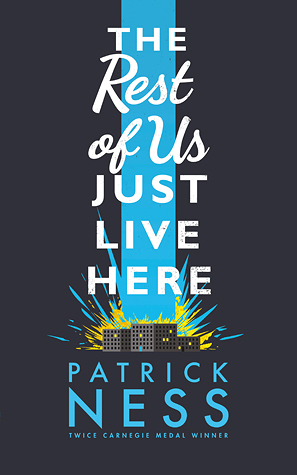 The Rest of Us Just Live Here by Patrick Ness

Release Date:
August 27, 2015

Publisher:
Walker Books
Source
: BEA
Summary
What if you aren't the Chosen One?
The one who's supposed to fight the zombies, or the soul-eating ghosts, or whatever the heck this new thing is, with the blue lights and the death?
What if you're like Mikey? Who just wants to graduate and go to prom and maybe finally work up the courage to ask Henna out before someone goes and blows up the high school. Again.
Because sometimes there are problems bigger than this week's end of the world, and sometimes you just have to find the extraordinary in your ordinary life.
Even if your best friend is worshipped by mountain lions.
Award-winning writer Patrick Ness's bold and irreverent novel powerfully reminds us that there are many different types of remarkable. (courtesy of Goodreads)
Review
A fabulous mish mash of literary YA with paranormal. In some ways,
The Rest of Us Just Live Here
isn't about much. It's basically just about a bunch of normal kids going about their lives. There's some really strange paranormal stuff happening on the periphery, but the crux of the book is about the regular goings on of Mikey, his sister, and his two best friends Henna and Jared.
If you like books about issues, but don't like "issue books," this is the book for you. So many issues - OCD, eating disorders, alcoholism, troubled families, LGBTQ, etc. It delves into these issues very thoughtfully, with lots of lines that you want to highlight so you'll remember them. You could argue that there are too many issues in this book to feel realistic. Everyone has problems, but not everyone has direct links to every possible problem. That may be true, but it didn't feel that way while I was reading it.
I loved the paranormal element. It was written a little tongue-in-cheek, like a parody of every paranormal ever. Not to the extent of Fangirl, but in that line. There are these "immortals" who are slowly trying to take over the town and by extension the world. But it's up to the "Indie kids," or the "Chosen Ones," to deal with them. Our characters only interact with the paranormal element on the sidelines. The goings on of the "Indie Kids" is written in brief bolded type at the top of the chapters. I got a kick out of it.
Mikey is a character remarkable only for his unremarkableness. He suffers from OCD, which is rarely discussed in literature unless it's the punchline of a joke. It's dealt with really well here. I understood why it can be so disruptive to his life. Yet Mikey is a fully formed character. He's kind and funny to his friends and protective of his sister. He becomes nasty in his jealousy towards a new kid who appears to getting close to Henna, who he's in love with. Mikey is a person I would like to know, despite his flaws.
The book can be a bit slow, but I didn't think it dragged too much. I was able to get through it quickly, because I enjoyed being in that world. It's not the book to read if you want a thriller, but if you're looking for a thoughtful read with a bit of paranormal satire, you will love this one.
Recommendation: Total buy!