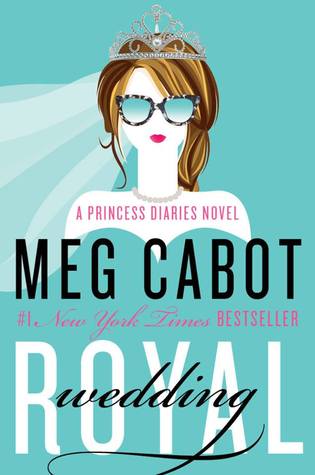 Royal Wedding: Princess Diaries by Meg Cabot

Release Date:
June 2, 2015

Publisher:
William Morrow Paperbacks
Source
: BEA
Summary
From the #1 New York Times bestselling author of the Princess Diaries series, comes the very first adult installment, which follows Princess Mia and her Prince Charming as they plan their fairy tale wedding—but a few poisoned apples could turn this happily-ever-after into a royal nightmare.
For Princess Mia, the past five years since college graduation have been a whirlwind of activity, what with living in New York City, running her new teen community center, being madly in love, and attending royal engagements. And speaking of engagements. Mia's gorgeous longtime boyfriend Michael managed to clear both their schedules just long enough for an exotic (and very private) Caribbean island interlude where he popped the question! Of course Mia didn't need to consult her diary to know that her answer was a royal oui.
But now Mia has a scandal of majestic proportions to contend with: Her grandmother's leaked "fake" wedding plans to the press that could cause even normally calm Michael to become a runaway groom. Worse, a scheming politico is trying to force Mia's father from the throne, all because of a royal secret that could leave Genovia without a monarch. Can Mia prove to everyone—especially herself—that she's not only ready to wed, but ready to rule as well? (courtesy of Goodreads)
Review
I began reading The Princess Diaries series when I was in college. I thought they were fun and cute, but occasionally too juvenile for my tastes. Which made sense considering that I was a lot older than Mia. I didn't get all the way through the series. I think the last book I read was where she and Michael broke up. I was so upset about it that it was one of the reasons I stopped reading the series. Lucky me, turns out they got back together and now they're getting married!
I really like the girl that Mia grew up into. She's kept her down-to-earth nature and her forthrightness. Her silly zaniness has matured into a lovable neurotic nature. She reminds me somewhat of a Seinfeld character. The adult Mia feels more comfortable in her skin and in her role as a Princess. I love Michael. He is such a rock. He is very much as he always was. Steady, forthright, brilliant, plus a bit of fun.
All the old Princess Diaries cast is in tow. Lily and Tina, Grand-mere and Mom, Lars, Boris and even Lana (apparently they became friends as the series went on). Setting aside the somewhat unrealistic nature that Mia's only friends are those from high school, I was very happy to see that the old crew is still together.
Essentially this book is more of the same from The Princess Diaries series. Mia is worried about horrible things happen, horrible things Mia doesn't expect to happen does in fact happen, Mia makes it worse by overreacting, and eventually things sort themselves out and everyone ends up happy. But I liked the adult tinge on it. Also, the book feels very current with pop culture references and feels like the life of a normal 26 year old, even if Mia is in fact a Princess, famous, and super rich.
Another thing that was fun for me was the New York setting. Back when I read the series, New York City was as foreign to me as Genovia. Now I've visited so many times that I feel like I know all of Manhattan (although that is certainly not true). In fact, I got the book in New York at BEA. If you're a fan of New York, you'll love all the references to the city. It was an opportunity for armchair travel, even if Mia is holed up at the embassy for much of the book.
Royal Wedding
is a delightful coda to the Princess Diaries series. With the addition of Mia's new half sister (really not a spoiler since there's already a book about her published), the series is sure to continue. I'm excited to read more.
*My only quibble about the book was a big twist toward the end. It probably won't both most people, but it was particularly bad timing for me. Talk about pouring a crapton of salt on a gaping, bleeding wound.
Recommendation: Buy if you loved the Princess Diaries series!
Here's How to Buy the Book!