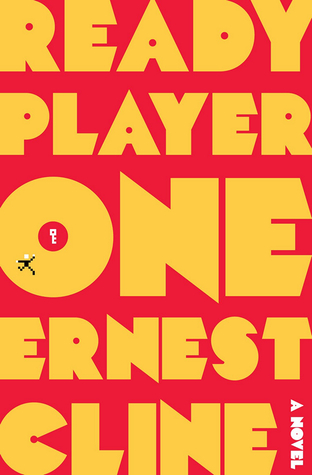 Ready Player One by Ernest Cline

Release Date:
August 16, 2011

Publisher:
Random House NY
Source
: Library
Summary
In the year 2044, reality is an ugly place. The only time teenage Wade Watts really feels alive is when he's jacked into the virtual utopia known as the OASIS. Wade's devoted his life to studying the puzzles hidden within this world's digital confines, puzzles that are based on their creator's obsession with the pop culture of decades past and that promise massive power and fortune to whoever can unlock them. When Wade stumbles upon the first clue, he finds himself beset by players willing to kill to take this ultimate prize. The race is on, and if Wade's going to survive, he'll have to win—and confront the real world he's always been so desperate to escape. (courtesy of Goodreads)
Review
Ready Player One
is one of those books that is so hyped that I was afraid to read it. Everyone said that it's the perfect book for lovers of pop culture and geekery. Luckily, it lived up to the hype. Such a fun story.
Cline builds a rich, detailed word both in and out of virtual reality. Real life is your typical futuristic dystopian. The world is falling apart, massive poverty, pollution, etc. But Oasis, the virtual reality world was incredibly cool. It can be anything you want. You can replicate The Lord of the Rings or hang out with your friends at a mall. You can even go to public school.
The beginning of the book goes relatively slow, because there is so much world building. This frustrated me at times because I was dragging along. However, I think it pays off. It gives us a firm understanding of the world that Wade is living and playing in. I particularly liked the descriptions of Wade's high school and how it works online (which is good, because there's a lot written about it that isn't really relevant to the story).
Wade is a typical hero. He is smart, snarky, and brash. He's an orphan with a chip on his shoulder because of his difficult family life. He sticks to his convictions and is (for the most part) loyal to a fault towards his friends. If anything, Wade is too perfect. He makes a few wrong decisions, but mostly everything he does is right - both in the sense of playing the game and ethically. He would be more interesting as a more layered character, but I was so invested in the story that I didn't care as I was reading.
This book is steeped on 1980s pop culture. Mostly movies and video games. Unlike most people my age, I haven't watched many 80s movies and don't play video games. I still caught onto much of the nostalgia having been a young child in the 1980s, but I don't think I appreciated the retro feel as much as others.
The last third of the book flies by. As I said above, it takes awhile for the quest to get beyond the world building and the introductory steps of the journey. But once it does, the book is one of the most compelling things I've read in a long time. Wade and his friends H and Artemix face both virtual and physical danger from the evil Sixers. Time is of the essence as they race to get all the keys necessary to solve the contest that will give them control of the most powerful feature in their lives.
Ready Player One
is apparently being made into a movie by Steven Spielberg. The book already reads like a film, so I can't wait to see it. Despite a slow start,
Ready Player One
is highly readable and entertaining. It will keep you at the edge of your seat.
Recommendation: Definite buy!
Here's How to Buy the Book!