Waiting on Wednesday is a meme hosted by
Jill of Breaking the Spine
!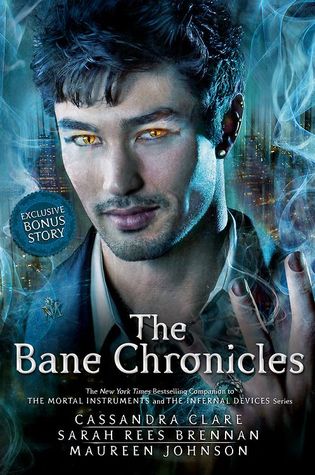 The Bane Chronicles by Cassandra Clare, Maureen Johnson, and Sarah Rees Brennan


Publish Date: November 11, 2014
Publisher: Margaret K. McElderry Books
Magnus Bane is one of my favorite characters from Cassandra Clare's books. I've managed to resist buying the short stories individually in favor of waiting for the full book to be released. It's almost here!
A Collection of Ten Short Stories centred around Magnus Bane. Each short story is going to be published as an ebook followed by a Full Single Print Coming 2014

Ever wondered about the enigmatic, mysterious warlock Magnus Bane? The only character to appear in every Shadowhunter book, Magnus has a past even more shrouded in mystery than his present. I've teamed up with acclaimed YA writers Maureen Johnson and Sarah Rees Brennan to create the Bane Chronicles, the back (and front) story of Magnus told in ten linked tales.

Look for short stories like Vampires, Scones and Edmund Herondale; The Rise and Fall of the Hotel Dumort; Saving Raphael Santiago and What To Buy The Shadowhunter Who Has Everything (And Who You're Not Officially Dating Anyway). Each story will be available as an ebook on a monthly basis starting April 16 with the tale of What Happened In Peru.