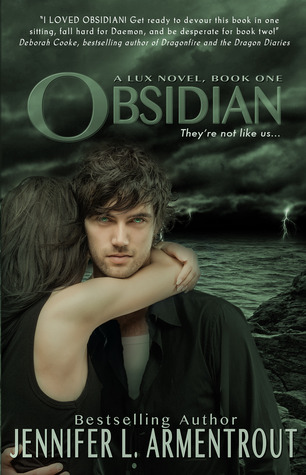 Obsidian by Jennifer Armentrout

Release Date:
May 8, 2012

Publisher:
Entangled Press
Source
: BEA
Summary
Starting over sucks.
When we moved to West Virginia right before my senior year, I'd pretty much resigned myself to thick accents, dodgy internet access, and a whole lot of boring... until I spotted my hot neighbor, with his looming height and eerie green eyes. Things were looking up.
And then he opened his mouth.
Daemon is infuriating. Arrogant. Stab-worthy. We do not get along. At all. But when a stranger attacks me and Daemon literally freezes time with a wave of his hand, well, something... unexpected happens.
The hot alien living next door marks me.
You heard me. Alien. Turns out Daemon and his sister have a galaxy of enemies wanting to steal their abilities, and Daemon's touch has me lit up like the Vegas Strip. The only way I'm getting out of this alive is by sticking close to Daemon until my alien mojo fades.
If I don't kill him first, that is. (courtesy of Goodreads)
Review
Can you write a YA paranormal these days and not have it feel formulaic? If you can, I haven't found one. However, what you can do is take those same tropes you've read a million times and do them well. That's what Jennifer Armentrout does with
Obsidian
. It feels like something I've read before. But it features the paranormal elements I like best and mostly succeeds at avoiding the elements I don't like.
It's hard not to love Katy. She's a book blogger! I feel like I'm reading about my own life. Writing Waiting on Wednesday posts. Getting books in the mail. Stepping on books all over the house. Plus, she's a strong girl who doesn't let Daemon get the best of her. I like that she falls into his paranormal world, but doesn't lose herself. She's the type of person who may not have supernatural powers, but she doesn't need to be rescued all the time - or when she does, she doesn't feel like a passive victim.
Daemon (whose name I kept pronouncing as Demon) is a very stereotypical paranormal love interest. Handsome teenager who puts on a mean front to protect his family and his secret but can't help falling in insta-lust with the pretty girl. While I liked Daemon and his chemistry with Katy, this is the part of the book I liked least. It didn't feel fresh at all. And I hate the meanness for a reason trope. I fell for it with Edward, but it only worked once.
Dee is the other biggest trope. Perky best friend sister. Is there a paranormal series without one? This happens to be a trope that I cannot resist. I loved Dee just as I love Alice and every character of her ilk. It's nice to have a lighthearted character to break up the angst. As for the other stereotypical side characters, Ash = Rosalie, Adam and Andrew = Jasper and Emmett, and Matthew = Carlisle (sort of). I neither dislike nor like the use of this trope. It serves a purpose, although I still snickered a bit.
I love having aliens as the paranormal creatures. This at least feels fresh. Their powers are unique and their origin story was fascinating. It was my favorite part of the book and the main thing that got me to keep going with the series.
I enjoyed
Obsidian
. Unfortunately, I do think my apathy towards it is a "it's not you, it's me" kind of thing. I really am tired of paranormal. I've been saying this for awhile, but this cements it. I wanted to get sucked into this series like everyone else is. While I enjoyed it, I couldn't set my skepticism aside. I've already finished the second book of the series and will probably finish the rest, out of curiosity, but I think I need a long break from this genre.
Recommendation: Borrow
Here's How to Buy the Book!