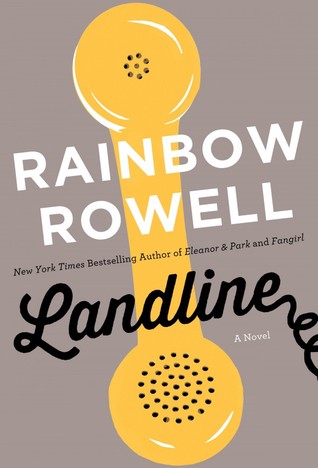 Landline by Rainbow Rowell

Release Date:
July 3, 2014

Publisher:
St. Martin's Press
Source
: BEA
Summary
Georgie McCool knows her marriage is in trouble. That it's been in trouble for a long time. She still loves her husband, Neal, and Neal still loves her, deeply — but that almost seems beside the point now.
Maybe that was always beside the point.
Two days before they're supposed to visit Neal's family in Omaha for Christmas, Georgie tells Neal that she can't go. She's a TV writer, and something's come up on her show; she has to stay in Los Angeles. She knows that Neal will be upset with her — Neal is always a little upset with Georgie — but she doesn't expect to him to pack up the kids and go home without her.
When her husband and the kids leave for the airport, Georgie wonders if she's finally done it. If she's ruined everything.
That night, Georgie discovers a way to communicate with Neal in the past. It's not time travel, not exactly, but she feels like she's been given an opportunity to fix her marriage before it starts . . .
Is that what she's supposed to do?
Or would Georgie and Neal be better off if their marriage never happened? (courtesy of Goodreads)
Review
My initial reaction to
Landline
was "This is why I prefer reading YA."
Landline
is an adult novel. Not that it's full of smexy times or swearing, but rather it's a book that reflects real, adult life. Stuff gets hard. Love is as much about effort as it is romance and passion. Sometimes your dreams contradict one another and you have to make a bittersweet choice. I prefer the fantasy world of YA where things are generally simpler and there is the hope that everything will work out perfectly even if things start out awful.
It's funny that I think of this book as reflecting real life when it's about a grown woman using a landline telephone to speak to her husband fifteen years ago. Rainbow does a remarkable job of making this scenario feel entirely plausible. It's more of a plot device - a way of discovering who the characters are now by getting to know them then. It's accompanied by a lot of flashbacks to flesh things out. Georgia talks about the weirdness of speaking to someone from the past, but runs with it. The time traveling phone doesn't get in the way of the story or make it feel silly. If you're not into sci fi stuff don't worry. You can spend time wondering whether this is actually happening now or was it actually happening then or both, but it doesn't matter to the story.
In a typical romantic comedy, the funny, plump Georgia would end up with handsome, hilarious Seth - her best friend and writing partner who she lusted over for years. But instead, she falls in love with a somewhat grumpy cartoonist who turns out to be a kind, solid, upstanding guy. Settling into a different cliche: "Seth is the kind of guy you date; Neal is the kind of guy you marry." I like that Rainbow stepped out of a stereotypical plot here.
The only bad thing is that Seth was so much more dynamic. He's hilarious. And the chemistry between them is palpable. I like Neal too. Rainbow does a wonderful job of showing (not telling) how their relationship developed into one of a deep love. Georgia and Neal are right together, but if Seth had looked at Georgia at the right time, they might have been right together too. Luckily, there are lots of great Seth/Georgia scenes, both in the present and the past. I preferred them to the Neal/Georgia scenes.
As with all of Rainbow's books,
Landline
is full of cultural references. Since Georgia is a TV sitcom writer, most are from TV shows of the 1980s and early 1990s. I was a little young for some of the references, but others I remember very clearly. It was a great way to go back in time.
Landline
is a bittersweet romance. I want Georgia to be happy, but I know that she won't be entirely happy with whatever she chooses, because there isn't an easy solution. That makes the book frustrating for a reading escapist like me. If you also prefer books with more pure happiness, I'd still recommend
Landline
. Rainbow does an incredible job at showing how the little things can create a romance and how two flawed characters fit together. It's also funny and well-written. It's not the perfect book for me, but it is a wonderful book for many people.
Recommendation: Borrow
Here's How to Buy the Book!