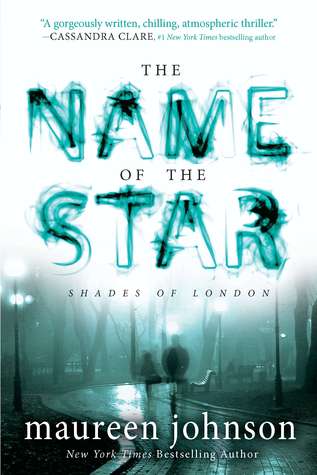 The Name of the Star by Maureen Johnson

Release Date:
October 2, 2012

Publisher:
Speak
Source
: BEA
Summary
Jack the Ripper is back,
and he's coming for Rory next....
Louisiana teenager Rory Deveaux arrives in London to start a new life at boarding school just as a series of brutal murders mimicking the horrific Jack the Ripper killing spree of more than a century ago has broken out across the city. The police are left with few leads and no witnesses. Except one. Rory spotted the man believed to be the prime suspect. But she is the only one who saw him - the only one who can see him. And now Rory has become his next target...unless she can tap her previously unknown abilities to turn the tables.(courtesy of Goodreads)
Review
I got
The Name of the Star
a long time ago, but put off reading it. I haven't been in the mood for paranormal lately. And I keep forgetting that it's on my shelf. I finally picked it up recently and adored it.
First off, if you're a contemporary fiction fan, you'll love this book. It is a paranormal since Rory "I see dead people" Deveaux has a near-death choking experience that allows how to interact with ghosts. However, much of the book feels like a typical boarding school book. And who doesn't love boarding school books?! It's about Rory getting used to boarding school life, making friends, studying hard, and observing the British. It shifts to be a thriller later on, but the contemporary base made the book feel like everything that happened was possible.
The story gets deliciously dark as more people are murdered and the police are clearly out of their depths. I didn't find it particularly scary, but I almost never find books scary. As suspense novels go, this was very well done. As I said before Maureen wrote this book in such a way that I frequently forgot that this couldn't actually happen.
The Name of the Star
is a paranormal, not a paranormal romance. Not to say there isn't romance, but it is not the focus of the story. I loved that. I also loved Jerome, Rory's love interest. He's an aspiring journalist and is enthralled by the murder mystery. He and Rory bond over the fact that they're more intrigued than disgusted by the mystery. It was clear that they actually had things in common rather than being an insta-love situation. Their relationship was extraneous to the plot, but somehow didn't feel tacked on. Perhaps because I quickly came to like Jerome.
A few criticisms. First, I thought the fact that Rory's near death experience was from choking during dinner was a little silly. Which is weird because there's nothing funny about choking. It was something about the way that the choking incident was set up that I didn't like. There wasn't enough context and it ended too quickly. Secondly, the book was a bit predictable. I guessed the secret behind several characters' identities and purposes within a page of meeting them. Same thing with the murderer. It didn't spoil the story, but I do like being surprised. Thirdly, I see a love triangle forming. Just hints here and there, but I bet it's coming.
While not a perfect book,
The Name of the Star
is really enjoyable. I wish I could go to boarding school with Rory and hang out with her mostly drama-free friends. And then go ghost-busting (actually I'd prefer reading about ghost-busting to doing it, but my adventurous side can imagine). Another downside that is entirely my fault: I read the synopsis for the 3rd book and had the ending of the 2nd book spoiled. I'm really irritated with myself and it's actually put me off picking up the second book for awhile. But I will get to it.
Rating: 4 / 5
Here's How to Buy the Book!