Tween Tuesday is a weekly meme created by GreenBeanTeenQueen, one of my favorite blogs. Surprise, surprise - it features books aimed at Tweens.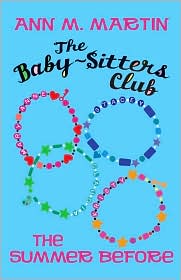 Before there was the Baby-Sitters Club, there were four girls named Kristy Thomas, Mary Anne Spier, Claudia Kishi, and Stacey McGill. As they start the summer before seventh grade (also before they start the BSC), each of them is on the cusp of a big change. Kristy is still hung up on hoping that her father will return to her family. Mary Anne has to prove to her father that she's no longer a little girl who needs hundreds of rules. Claudia is navigating her first major crush on a boy. And Stacey is leaving her entire New York City life behind...
...in order to find new friends in Stoneybrook, Connecticut. (Courtesy of Amazon)
I was beyond thrilled to hear that Ann M. Martin was writing a prequel to the BSC. I've been a fan of the books since I was 7 years old - more than 20 years now. The book is set the summer before the BSC begins (if that isn't obvious from the title) and stars Mary Anne, Claudia, Kristy, and Stacy, with a cameo from Mallory. We see a lot of our favorite baby-sitting charges too.

Although this book is written for tweens, I think adults will relate to it best - especially those of us who have "known" the BSC girls for years. All four of the girls are struggling. It really is a difficult summer - that awkward time when you're no longer a little child, but you're not even a full teenager yet. Mary Anne is feeling tied down by her strict father and trying to learn everything she can about her deceased mother. Kristy is devastated that her father is completely absent and resents Watson's intrusion. Claudia is ready to grow-up and clashes with her still childish friends - she gets her first boyfriend and learns that's not always as great as it seems. Stacy is about to move away from NYC, has no friends, and still getting used to being diabetic. I felt sad throughout a lot of the book - relating to the girls now more as a parent than as a friend - you just want to give them a hug and try to ease the growing-up process. This interesting but difficult summer makes the Baby-Sitter's Club seem even more important than before - it gave 4 girls a place of friendship, happiness, and stability.

Ann M. Martin's writing has definitely improved over the years. She'll never be one of the more skilled writers in children's literature, but I can see clear growth between this book and her early books. The sentence structure and language are more varied, although the formulaic nature of the series was somewhat unavoidable in such a large product. She still does have a thing for parentheses, which always amused me.

I wish we could see the BSC girls all grown up, but this is a fabulous addition to the BSC canon.
Rating: 4.5/5 (very biased fan-girl rating)