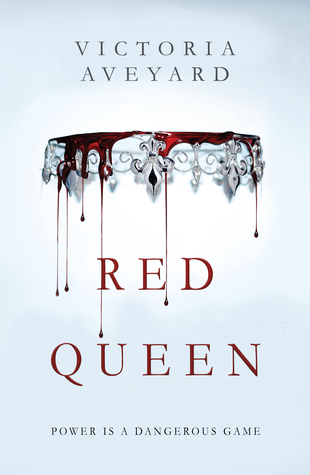 Red Queen by Victoria Aveyard

Release Date:
February 10, 2015

Publisher:
Orion
Source
: Library
Summary
The poverty stricken Reds are commoners, living under the rule of the Silvers, elite warriors with god-like powers.
To Mare Barrow, a 17-year-old Red girl from The Stilts, it looks like nothing will ever change.
Mare finds herself working in the Silver Palace, at the centre of those she hates the most. She quickly discovers that, despite her red blood, she possesses a deadly power of her own. One that threatens to destroy Silver control.
But power is a dangerous game. And in this world divided by blood, who will win? (courtesy of Goodreads)
Review
Sometimes deciding whether a book is bad, decent, or great comes down to a gut feeling more than anything else. I went with my gut on the
Red Queen
. As soon as I finished it, I was in love with the characters, plot, and world-building. I couldn't wait for the sequel.
I was fascinated by the world that Victoria Aveyard created with
Red Queen
. It felt like an old-world caste system, but the Silver Bloods have supernatural powers to differentiate them from regular humans. I got a vivid picture of life as a Red Blood and life as a Silver Blood. One thing I particularly liked was that neither class was completely demonized or angelicized (I don't think that's a word but it should be). In general, the Reds leaned good and the Silvers leaned bad, but there was some texture. Some Silvers were cruel because they were evil, some were merely ignorant, some were as stuck in the system as Reds. Similarly, many Reds banded together to help everyone in a bad situation while others were willing to play dirty to try to improve their lives.
Mare is a headstrong, gutsy girl who often jumps to action based on her temper and her emotions. Sometimes this works out well for her, sometimes it doesn't. She is strongly motivated to protect her family and friends. But she also grew up feeling like the least talented girl in her family, so she has an unconscious drive to prove herself. There's a part of her that I think revels in having special powers, even if she doesn't realize it.
I really liked the characters of the princes who become Mare's friends, confidantes, helpers, and romantic interests. Cal, the older prince, has a good and is the type who does everything perfectly. He also has a vicious side that indicates he'll rule with an iron fist even if it is well-intentioned. Maven is the spare prince. He's always looked up to his big brother and is eager to prove himself worthy. In personality, he is more like Mare - he leads with his emotions. I liked both princes in their own ways and was fascinated by how their stories developed.
As I indicated at the beginning, I liked this somewhat in spite of myself. I've read a lot of mixed reviews of
Red Queen
. I think they're justified. If you take a step back, the book feels like a mixture of tropes. A little Hunger Games, a little Divergent, a little Game of Thrones. Similarly, the character of Mare is designed in the style of female protagonist that is in vogue these days. A generic "strong" girl. Not to mention that there is a love triangle. Actually it's a love rectangle or even a love pentagon, depending on how you look at it.
I was aware of the problematic elements of the book as I read it, but I didn't care. I enjoyed
Red Queen
so much. There's a reason formulas work to produce good pieces of art. As individual elements, this may not be the most original book, but put it all together and it becomes something wonderful. I particularly loved the ending, which was not completely surprising, but thrilling nonetheless. I cannot wait to read more of Mare's story.
Recommendation: Buy if you're a fantasy fan.
Here's How to Buy the Book!