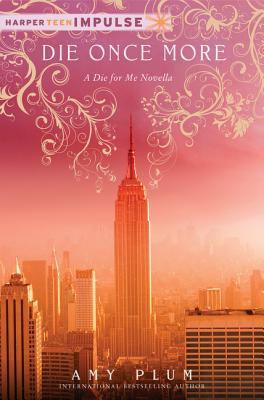 Die Once More by Amy Plum

Release Date:
February 3, 2015

Publisher:
Epic Reads Impulse
Source
: Library
Summary
This one-hundred-page novella picks up where the international bestselling Die for Me trilogy ended and follows the eternally irresistible Jules Marchenoir as he leaves Paris behind for a fresh start in New York City.
Jules is a revenant—an undead being whose fate forces him to sacrifice himself over and over again to save human lives. He's spent the last century flirting his way through Paris and, most recently, falling in love with his best friend's girlfriend. Loyalty and heartbreak have led him to choose a new life in NYC.
Separated from his friends and his home, Jules is adrift in this dangerous new world, facing unknown enemies . . . until he meets a revenant named Ava. Though the battle for France has been won, an epic war between good and evil has just begun in the Big Apple, and Ava needs Jules's help to uncover the key to an American victory. Jules finds himself in the same position he crossed an ocean to escape: at risk of losing his immortal existence as well as his heart. (courtesy of Goodreads)
Review
Amy Plum's Revenant series is one of my absolute favorite YA paranormal series. I was sad to see the series end in 2013, but really liked how it ended. This a novella gives Jules, one of my favorite side characters, a chance at a happy ending.
Jules is not at a good place when the story begins. He is hopelessly in love with his best friend's girl. Since he's basically immortal, ageless, and interacts with a limited social group, he can't see how he will ever get over his love for Kate. So he runs away.
The book was set in New York - Brooklyn to be specific. For the most part, the setting wasn't that important. Actually none of the plot was important or well-developed. Basically there was lots of numa activity in New York and the New York revenants needed help. I think Amy made a good choice by placing that in the background of the story, since readers won't really care. The only thing that matters is Jules.
Jules isn't as funny in this story than in the previous books. This is starts off because he's depressed. Later it develops that he is trying to be sincere rather than charming. I liked Jules best when he was happy and funny, but not in the prince charming front he liked to put on. Being told through Jules's voice allowed him to come off as a more genuine person.
Of course there's the love interest, Ava. It's one of the hate turns to love stories, which at least is better than insta-love. I really liked her. She was a natural leader, hard-edged, intelligent, and charismatic. It feels like their relationship turns from hate to like pretty quickly, but I think the way it's done made sense.
Best of all, we do get to go back to Paris and see the old gang. Kate, Vincent, Gaspard, Charlotte, and everyone else make an appearance. I wish we could have gotten a full book rather than a novella, but this is a great way to cap off the Revenants' stories. The greatest compliment I can give this novella is that it makes me want to go back and re-read the series, especially
Die For Me
, the first book, which was my favorite.
Recommendation: Borrow. Or buy since it's only $1.99.
Here's How to Buy the Book!