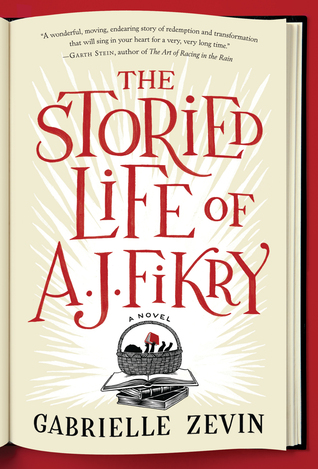 The Storied Life of A.J. Fikry by Gabrielle Zevin

Release Date:
April 1, 2014

Publisher:
Algonquin Books
Source
: Purchased
Summary
On the faded Island Books sign hanging over the porch of the Victorian cottage is the motto "No Man Is an Island; Every Book Is a World." A. J. Fikry, the irascible owner, is about to discover just what that truly means.
A. J. Fikry's life is not at all what he expected it to be. His wife has died, his bookstore is experiencing the worst sales in its history, and now his prized possession, a rare collection of Poe poems, has been stolen. Slowly but surely, he is isolating himself from all the people of Alice Island-from Lambiase, the well-intentioned police officer who's always felt kindly toward Fikry; from Ismay, his sister-in-law who is hell-bent on saving him from his dreary self; from Amelia, the lovely and idealistic (if eccentric) Knightley Press sales rep who keeps on taking the ferry over to Alice Island, refusing to be deterred by A.J.'s bad attitude. Even the books in his store have stopped holding pleasure for him. These days, A.J. can only see them as a sign of a world that is changing too rapidly.
And then a mysterious package appears at the bookstore. It's a small package, but large in weight. It's that unexpected arrival that gives A. J. Fikry the opportunity to make his life over, the ability to see everything anew. It doesn't take long for the locals to notice the change overcoming A.J.; or for that determined sales rep, Amelia, to see her curmudgeonly client in a new light; or for the wisdom of all those books to become again the lifeblood of A.J.'s world; or for everything to twist again into a version of his life that he didn't see coming. As surprising as it is moving, The Storied Life of A. J. Fikry is an unforgettable tale of transformation and second chances, an irresistible affirmation of why we read, and why we love.(courtesy of Goodreads)
Review
A must read for book lovers and bookstore lovers!
Don't go into this book expecting to read something super original. This is a personal redemption arc with a touch of romance and lots of family drama. It feels a bit Nicolas Sparksy. That's not to steer you away from it though. It is a feel good novel with so many great book call-outs. Just expect it to be a bit cliche'd and love it anyway.
You could almost argue that this is purposely a pastiche of book tropes - which it may be. It draws from a lot of elements you've read before. A.J. Fikry is a lost man following the death of his wife. Everything changes when he finds an abandoned baby on his door step. This crusty man who seems very old but actually isn't becomes a devoted father. He also goes from hating everyone to creating an atmosphere in his bookstore where it becomes the center of his small town. Maya's entrance into A.J.'s life changes almost everyone's life for the better.
The friendship-romance element comes in when Amelia enters A.J.'s life. She is a seller for a small press publisher - anyone with any knowledge of the publishing industry will love this element. They have a disastrous start which is due entirely to A.J. being a self-pitying jerk. But Maya makes A.J. a different person and this leads to a slow friendship that blossoms into more with Amelia.
I feel like I'm writing a poor review, but that's because there's not a lot to say. This reads like a Hallmark movie. I like Hallmark movies. It is sad and feel-good at the same time. It's odd...objectively, I'd say this isn't that great of a book. It is so not unique that it's almost comical. But at the same time, it's delightful. I loved it.In fact, I'd like to read it again. I think it was well worth the money I spent on it.
Recommendation: Buy in spite of yourself. You'll love it.
Here's How to Buy the Book!