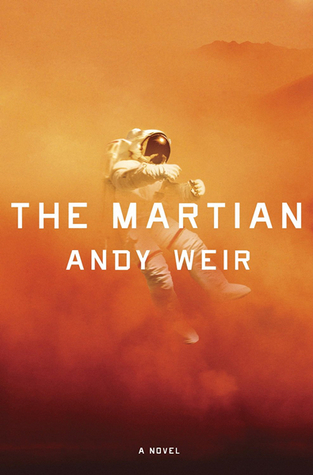 The Martian by Andy Weir

Release Date:
February 11, 2014

Publisher:
Crown
Source
: Purchased
Summary
Six days ago, astronaut Mark Watney became one of the first men to walk on the surface of Mars. Now, he's sure he'll be the first man to die there.
It started with the dust storm that holed his suit and nearly killed him, and that forced his crew to leave him behind, sure he was already dead. Now he's stranded millions of miles from the nearest human being, with no way to even signal Earth that he's alive--and even if he could get word out, his food would be gone years before a rescue mission could arrive. Chances are, though, he won't have time to starve to death. The damaged machinery, unforgiving environment, or plain-old "human error" are much more likely to get him first.
But Mark isn't ready to give up yet. Drawing on his ingenuity, his engineering skills--and a relentless, dogged refusal to quit--he steadfastly confronts one seemingly insurmountable obstacle after the next. But will his resourcefulness be enough to overcome the impossible odds against him? (courtesy of Goodreads)
Review
I had this book a long time before I read it. I bought sometime last year. Both my parents even read it before I did. I picked the book based on recommendations from two of my favorite podcasts, Book Riot and Books on the Nightstand. They raved about it as being hilarious, fascinating, and suspenseful. It certainly was all those things.
For starters, those wary of science fiction should not be afraid of this book. The core of the plot does not depend on your having any knowledge of science. It talks a lot about space travel, botany, and other science concepts, but in a way that is accessible to outsiders. But the heart of the story is a classic suspense tale. Will Mark survive his adventure or won't he? The science is support pieces to the basic plot. It gets a bit techno-babbly at times, but you can easily plow through it or skim past and not feel like you've missed anything.
Midway through the book we are told that Mark deals with stress by cracking jokes and appearing to take nothing seriously. This works to our benefit, because Mark is what makes this book a winner. From the moment the book begins, Mark realizes what a precarious situation he's in and does take it seriously, but his way of talking about it in his journal makes you think he's in the middle of a little problem, easily handed - not abandoned on a different planet. It immediately makes Mark into a very likeable character and a resilient one. Instead of despairing when a project doesn't go right, his attitude is "Well, that nearly killed me. Guess I won't do that again." It's only at isolated moments of the story where you do see Mark's emotions pull through - at times when things go really, really wrong or really, really right - and you realize both the stress he's under.
The book flows well, as Mark faces one challenge after another. Some challenges are big, like feeding himself. Some are small - like finding television shows to watch after the work day is done. All are riveting. The book does a good job of spacing out big challenges and achievements so it consistently stays compelling. The point of view does shift back to Earth eventually, to the people at NASA who are trying to bring Mark home. This is both good and bad. Bad because their stories and personalities aren't as interesting as Mark's. Good because their perspective feels necessary to make the book complete and give the reader access to info that Mark may not have.
The Martian
is being made into a movie, opening in November starring Matt Damon. I have high hopes for this. So you should definitely read it before the movie comes out. Whether you're a sci fi fan or not, an adult fiction fan or not, a space nut or not, you must read this book. It is well-written enough to attract serious scientists (at least I think it is) and accessible and compelling enough for laypeople to enjoy. You will be glued to the pages no matter who you are.
Recommendation: Totally buy!
Here's How to Buy the Book!