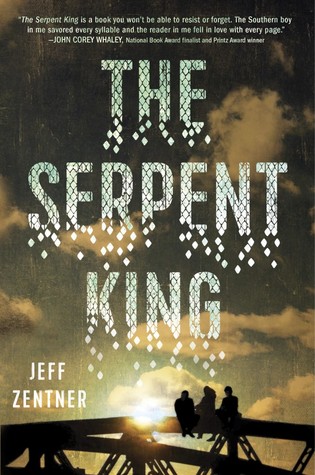 The Serpent King by Jeff Zentner

Release Date:
March 8, 2016

Publisher:
Crown Books for Young Readers/Random House
Source
: Library
Summary
Dill has had to wrestle with vipers his whole life—at home, as the only son of a Pentecostal minister who urges him to handle poisonous rattlesnakes, and at school, where he faces down bullies who target him for his father's extreme faith and very public fall from grace.
He and his fellow outcast friends must try to make it through their senior year of high school without letting the small-town culture destroy their creative spirits and sense of self. Graduation will lead to new beginnings for Lydia, whose edgy fashion blog is her ticket out of their rural Tennessee town. And Travis is content where he is thanks to his obsession with an epic book series and the fangirl turning his reality into real-life fantasy.
Their diverging paths could mean the end of their friendship. But not before Dill confronts his dark legacy to attempt to find a way into the light of a future worth living. (courtesy of Goodreads)
Review
My favorite book of the first half of 2016. It may end up being my favorite book of the entire year. It's the whole package - well-written prose, superbly drawn characters, and a plot that makes you think, celebrate, and mourn. Marvelously it manages not to be one of those books where the teenagers are 1000 smarter and more eloquent than real life people. It celebrates the beauty of realistic characters and hard, but realistic stories.
Despite what I just said about plot, this is not a book to read if you're looking for a page-turning plot. It is hard to put down, but that's all due to the characters. Things definitely happen in this book, but it's secondary to getting to know the characters and seeing how they develop.
Dillard, Lydia, and Travis are all delightful people - in different ways. Dill is depressed - his world was torn asunder when his pentacostal, snake-charming preacher father was arrested for child pornography. Not only his life, but his faith was thrown apart. Dill wants more out of life (like going to college), but isn't sure if he deserves to seek it.
Travis is a lovable giant. He's intimidating and huge, but all he wants to do is re-read his favorite fantasy series (I'm guessing it's like GoT or Wheel of Time) and sink into that world. He doesn't care what others think of him. He's fiercely loyal to Dill and Lydia, but I got the feeling he also would be okay on his own.
Lydia is the most "normal" of the three. She's a quirky fashion blogger who can't wait to get out of town. She has an air of superiority over these rural hicks that is frustrating, but I understood it. It is sad to see Dill and Travis be included among the people she's embarrassed by. She loves her best friends, but still intends to drop them the second she finishes high school. Lydia seems the most mature, but in many ways, she's the youngest acting of all three.
Family is an important element of the book. Travis and Dill's families are horrible. Travis's father is abusive. He's a stereotypical man's man and hates when Travis does anything that violates his idea of masculinity (like carrying a staff and obsessing over books). You see his family and understand why Travis needs to escape into books. Dill's mother blames Dill for not taking the fall when his dad was caught with kiddie porn. And she doesn't even want him to finish high school or get "too good." It's truly horrific how you can be so brainwashed that you expect your child to take the blame for you horrific husband.
I loved Lydia's parents. Especially her father. They're well-off, educated, and provide a stable life for Lydia. They're also great mentors for Dill and Travis. I loved the relationship that developed between Dill and Lydia's dad. He provided a listening ear and served as an example of a good man for Dill.
So far I've just talked about characters and hardly about plot at all. I don't want to give away some of the major things that happen. Aside from a very big twist, Lydia, Dill, and Travis grow up in this book. They learn to be more comfortable with who they are and their circumstances, as well as how they can rise above their stations (or in Lydia's case, not get too cocky).
It's a beautiful book that has so many lovely quotes that it is one of those stories you want to highlight, underline, and re-read.
Recommendation: Buy before anything else this year.