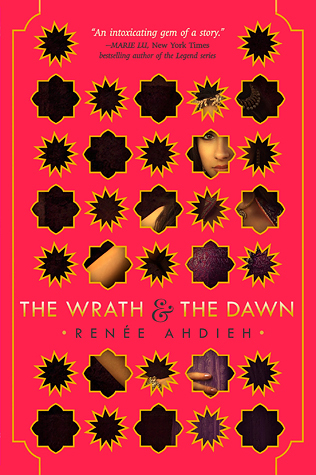 The Wrath and the Dawn by Renee Ahdieh

Release Date:
May 12, 2015

Publisher:
G.P. Putnam's Sons Books for Young Readers
Source
: Library
Summary
One Life to One Dawn.
In a land ruled by a murderous boy-king, each dawn brings heartache to a new family. Khalid, the eighteen-year-old Caliph of Khorasan, is a monster. Each night he takes a new bride only to have a silk cord wrapped around her throat come morning. When sixteen-year-old Shahrzad's dearest friend falls victim to Khalid, Shahrzad vows vengeance and volunteers to be his next bride. Shahrzad is determined not only to stay alive, but to end the caliph's reign of terror once and for all.
Night after night, Shahrzad beguiles Khalid, weaving stories that enchant, ensuring her survival, though she knows each dawn could be her last. But something she never expected begins to happen: Khalid is nothing like what she'd imagined him to be. This monster is a boy with a tormented heart. Incredibly, Shahrzad finds herself falling in love. How is this possible? It's an unforgivable betrayal. Still, Shahrzad has come to understand all is not as it seems in this palace of marble and stone. She resolves to uncover whatever secrets lurk and, despite her love, be ready to take Khalid's life as retribution for the many lives he's stolen. Can their love survive this world of stories and secrets?
Inspired by A Thousand and One Nights, The Wrath and the Dawn is a sumptuous and enthralling read from beginning to end.(courtesy of Goodreads)
Review
Wow. What a rich, satisfying novel. It's a twist on A Thousand and One Nights that I wasn't expecting. I love that it skirts a lot of YA tropes and then does something different.
My Top Five
1.
Shahrzhad
- A brave main character. Shazi basically sacrifices herself in order to revenge the death of her best friend. She plans to kill the Caliph (Khalid). She's clever enough to keep herself from being killed immediately and also cool-headed enough to allow her feelings to change as she learns more.
2.
Khalid
- Definitely a complex character. He starts out as a stereotypical over-privileged, thoughtless villain - or at least he seems that way. He continues to be difficult to understand, but we learn the difficulties he's facing. The chemistry he has with Shazi is strong but subtle. It feels more real when we aren't hit over the head with it.
3.
Pacing
- It took me awhile to get really into this book. I enjoyed it the entire time, but it didn't take over my whole mind until I was well into it. That's not necessarily a bad thing. The plot is so complex that it's difficult to take it all in. But once you do, the appreciation is that much greater.
4.
Not a love triangle (yet)
- This basically goes into the skirting tropes category. It looked like a love triangle was going to form between Shazi and other character(s). As far as I can tell, it is veering in a direction I didn't expect. I don't hate love triangles, but I really love being surprised.
5.
World building
- This book definitely has an epic fantasy feel. The world that Ahdieh has constructed is rich and detailed. I can tell that each character has a strong back-story. Similarly, the history, politics, and physical setting of Khorasan is so well described - slowly over the book without massive info dumps - that I felt as if it were real.
Recommendation: A must read for fantasy fans!