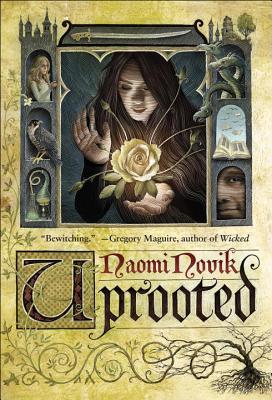 Uprooted by Naomi Novik

Release Date:
May 19, 2015

Publisher:
Del Rey
Source
: Library
Summary
"Our Dragon doesn't eat the girls he takes, no matter what stories they tell outside our valley. We hear them sometimes, from travelers passing through. They talk as though we were doing human sacrifice, and he were a real dragon. Of course that's not true: he may be a wizard and immortal, but he's still a man, and our fathers would band together and kill him if he wanted to eat one of us every ten years. He protects us against the Wood, and we're grateful, but not that grateful."
Agnieszka loves her valley home, her quiet village, the forests and the bright shining river. But the corrupted Wood stands on the border, full of malevolent power, and its shadow lies over her life.
Her people rely on the cold, driven wizard known only as the Dragon to keep its powers at bay. But he demands a terrible price for his help: one young woman handed over to serve him for ten years, a fate almost as terrible as falling to the Wood.
The next choosing is fast approaching, and Agnieszka is afraid. She knows—everyone knows—that the Dragon will take Kasia: beautiful, graceful, brave Kasia, all the things Agnieszka isn't, and her dearest friend in the world. And there is no way to save her.
But Agnieszka fears the wrong things. For when the Dragon comes, it is not Kasia he will choose.(courtesy of Goodreads)
Review
One of the best fantasy novels I've read this year. It feels like a modern twist on Beauty and the Beast but one that fixes the problematic elements of that story and also goes far beyond a simple romance.
My Top Five:
1.
Agnieszka
: Agnieska is a powerful sorcerer, although she doesn't know it. She comes to the Dragon as a sloppy, grumpy, and seemingly useless young woman. She's terrified but manages to hold her head up high. I loved her insistence on challenging the Dragon in so many different things and being steadfast for what she cared about most.
2.
Dragon
: Dragon doesn't know what to do with Agnieszka. She's nothing like the pretty, useful girls he normally chooses. Since he has a responsibility to train her in magic, she pushes him in ways the other girls didn't. Despite having a constant companion from the village, Dragon is a lonely man. He comes off as dark and even cruel. He has little patience and little trust in Agnieszka. To his credit though, he is willing to adjust his beliefs and actions when he realizes that Agnieszka's magic is not wrong - it's different - and that they can be much more powerful together.
3.
Agnieszka and Kasia
: A book that passes the Bechdel test! Kasia is Agnieszka's perfect friend. Even after Agnieszka goes to the castle, Kasia remains a part of the story. I loved that the girls had a relationship that was not based on the Dragon. It rounded out Agnieszka as a person and ended up showing different elements of the magical world than would be available without Kasia.
4.
Romance
: This book is rightfully classified as a fantasy, but the romance that develops between the Dragon and Agnieszka is a significant part of the story. This becomes a relationship of equals. The differences in their magic and personalities makes it that each relies on the other. It's also a subtle romance that develops very slowly. It's a delightful part of the plot but not the main part.
5.
Writing
: Uprooted was a difficult start. Complicated and slow. It took me a long time to get into it. But if you are patient it more than pays off. The prose is smooth and elegant. The world building is rich and unlike anything I've read. The pacing is excellent once you familiarize yourself with the world. It's the type of story I want to read over and over.
Recommendation: Buy this so you can read it multiple times!