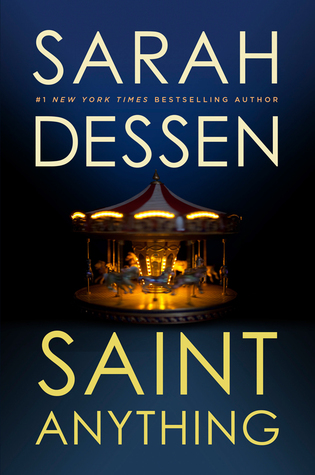 Saint Anything by Sarah Dessen

Release Date:
May 5, 2015

Publisher:
Viking Juvenile
Source
: Library
Summary
Peyton, Sydney's charismatic older brother, has always been the star of the family, receiving the lion's share of their parents' attention and—lately—concern. When Peyton's increasingly reckless behavior culminates in an accident, a drunk driving conviction, and a jail sentence, Sydney is cast adrift, searching for her place in the family and the world. When everyone else is so worried about Peyton, is she the only one concerned about the victim of the accident?
Enter the Chathams, a warm, chaotic family who run a pizza parlor, play bluegrass on weekends, and pitch in to care for their mother, who has multiple sclerosis. Here Sydney experiences unquestioning acceptance. And here she meets Mac, gentle, watchful, and protective, who makes Sydney feel seen, really seen, for the first time.
The uber-popular Sarah Dessen explores her signature themes of family, self-discovery, and change in her twelfth novel, sure to delight her legions of fans. (courtesy of Goodreads)
Review
This was such a fun book. Which is funny, because much of it is miserable. There's so much unhappiness in Sydney's life. Regardless, I had a very enjoyable reading experience.
In keeping with how Sydney's brother has always dominated her life, this book begins with his sentencing for hurting a teenager in a DUI. Even though it's Sydney's story, it's all about Peyton. That's appropriately symbolic. Luckily, Sydney increasingly has the chance to star in her life as she starts a new school and makes new friends. Of course, she also learns that being at the center of attention comes with a new set of problems.
One of the things I liked most about this book is how well-developed the characters are. With a few exceptions, none of the characters are pure evil. Or pure good. Sydney is a very good girl but not immune to making some poor decisions. Even Peyton the bad boy brother becomes less "bad" as Sydney comes to understand him as the book goes on.
I also like that the primary relationships in this book are friendship and family. There's romance too, but it's intertwined with friendship. Actually, you could remove the romance entirely and the plot would be just as good. Perhaps better since it wasn't a big part of the plot. I'd still say it was relevant, since it furthered the plot and the affected Sydney's relationship with many people.
The only complaint I can really think of is that the threat of conflict was dragged out. Then things were resolved too quickly. The resolutions made sense and weren't too magically perfect, but the end of the book was **LOOMING DISASTER**, then **DISASTER** and then **HAPPY** within a small amount of pages.
From an objective standpoint, that's actually a pretty significant flaw in the book. But I enjoyed the book enough that I didn't care. I finished this in less than a day. I did have to stop multiple times because the angst was too much, but I still loved it.
Recommendation: A definite yes for Sarah Dessen fans!
Here's How to Buy the Book!