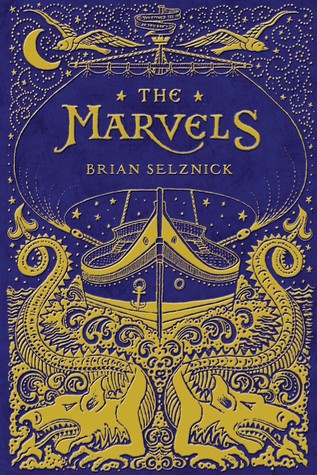 The Marvels by Brian Selznick

Release Date:
September 15, 2015

Publisher:
Scholastic Press
Summary
Caldecott Award winner and bookmaking trailblazer Brian Selznick once again plays with the form he invented and takes readers on a voyage!
Two seemingly unrelated stories--one in words, the other in pictures--come together. The illustrated story begins in 1766 with Billy Marvel, the lone survivor of a shipwreck, and charts the adventures of his family of actors over five generations. The prose story opens in 1990 and follows Joseph, who has run away from school to an estranged uncle's puzzling house in London, where he, along with the reader, must piece together many mysteries.
Author Biography
Brian Selznick is the Caldecott Medal-winning author and illustrator of the #1 New York Times bestsellers Wonderstruck and The Invention of Hugo Cabret which was adapted into Martin Scorsese's Oscar-winning movie Hugo. Selznick's books have garnered countless accolades worldwide, and have been translated into over 35 languages. He has worked as a set designer and a puppeteer. He lives in San Diego, California, and Brooklyn, New York. Watch the trailer!
Check out one of the incredible illustrations!!!
Learn More about The Marvels!
Visit the website for
The Marvels
!
And make sure you check to see if Brian Selznick will be visiting a city near you on his tour. Find out where to meet Brian Selznick on his tour for #THEMARVELS
GIVEAWAY!
Hey guys. I've got an awesome giveaway for you today.
One (1) winner receives:
·
A custom The Marvels jigsaw puzzle! (Wow!!!!)
**Prizes and samples provided by Scholastic Press
Enter the Giveaway here (US entries only please):
Here's How to Buy The Marvels!