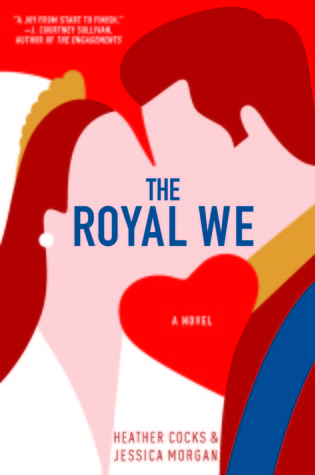 The Royal We by Heather Cocks and Jessica Morgan

Release Date:
April 7, 2015

Publisher:
Grand Central Publishing
Source
: Library
Summary
American Rebecca Porter was never one for fairy tales. Her twin sister, Lacey, has always been the romantic who fantasized about glamour and royalty, fame and fortune. Yet it's Bex who seeks adventure at Oxford and finds herself living down the hall from Prince Nicholas, Great Britain's future king. And when Bex can't resist falling for Nick, the person behind the prince, it propels her into a world she did not expect to inhabit, under a spotlight she is not prepared to face.
Dating Nick immerses Bex in ritzy society, dazzling ski trips, and dinners at Kensington Palace with him and his charming, troublesome brother, Freddie. But the relationship also comes with unimaginable baggage: hysterical tabloids, Nick's sparkling and far more suitable ex-girlfriends, and a royal family whose private life is much thornier and more tragic than anyone on the outside knows. The pressures are almost too much to bear, as Bex struggles to reconcile the man she loves with the monarch he's fated to become.
Which is how she gets into trouble.
Now, on the eve of the wedding of the century, Bex is faced with whether everything she's sacrificed for love-her career, her home, her family, maybe even herself-will have been for nothing. (courtesy of Goodreads)
Review
Are you a Royal fan girl? If so, then you will love
The Royal We
. This book is basically British royal fanfiction. There's no attempt to disguise is, nor would I want it to be disguised. Much of the reason it is so fun is because it purposely echoes Will and Kate, right down to the cover.
To add to royal fantasies, this book includes an American twist - Will...or Nick falls in love with Bex who is an American studying abroad at Oxford. What I really loved about this book was that it feels like it could be real - for the most part. Many of the celebrity blogs I read either thing Will and Kate walk several inches off the ground or think that they can do nothing right. I imagine the truth is much like Nick and Bex - somewhere in between. Nick and Bex in this book are real people. Typical university kids who watch trashy TV, party, and occasionally get work done. They are neither perfect nor terrible.
Bex is funny, genuine, and down-to-earth. She adores her twin sister Lacey and her parents, to the point where she puts blinders on when her sister tries to cash in on Bex's success. Nick and Bex are very well-matched. He is also a nice, funny guy. Nick understandably has trust issues and commitment problems, which causes a lot of the distress in their relationship. Regardless, the book does a great job of showing why Nick and Bex fell in love and why it lasts.
The side characters are perhaps the best part of this book. Lacey is Bex's twin sister. She functions as a frenemy essentially. Bex trusts her implicitly; whereas the reader spends much of her time wanting to throttle Lacey for being a social climber and riding on her sister's coattails. Still, she has a heart to her. Prince Freddie is Nick's little brother, who is obviously based on Prince Harry. He's the fun guy, but he too has depth. I also loved the supportive ring of friends that surround Nick and Bex. Cilla, Clive, Bea, Joss, and Gaz. I particularly loved Bea who comes off as a snooty poodle, but turns into an attack dog if someone goes after her friends.
For the most part, the book felt very realistic. One or two of the plot twists were eye-rollingly cliche (but they do say truth is stranger than fiction), but for the most part I could easily see almost everything happening in real life. The book emphasizes the difficulties of the media, how unrealistically the media portrays everything, the difficulties of life within the Royal family, and more. It's clear that Nick and Bex do not have an easy life together, despite having many, many, many privileges. Nor are their problems over despite the happy ending they get (not a spoiler - we all know there'll be a happy ending). But they are right for each other and will pull through it.
I highly doubt there will be a sequel to this book, but there could be. I'd love to see how Nick and Bex deal with married life and kids. I got
The Royal We
from the library, but I need to buy a copy because I want to re-read it already. And that's one of the highest compliment a book gets from me.
Recommendation: Buy! Buy! Buy! Buy three copies! No, Five!
Here's How to Buy the Book!