Manga Mondays Meme
I've been doing Manga Mondays every week since I started my blog almost 5 years ago. It started out as a personal feature, but I decided to turn it into a meme last year. There are quite a few people who do Manga Mondays. I don't claim by any means that I owned or created the idea of Manga Mondays - it's an obvious choice given the alliteration. I think a meme is a great way for everyone to publicize their own Manga Mondays and get a little more publicity.
The linky will be below my review.
Nimona by Noelle Stevenson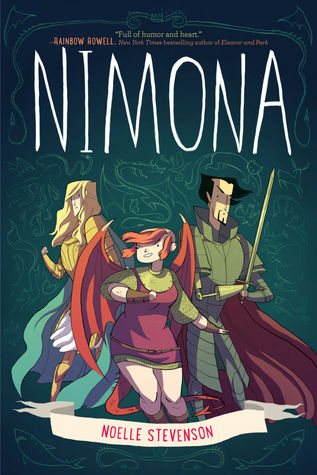 Summary
The graphic novel debut from rising star Noelle Stevenson, based on her beloved and critically acclaimed web comic, which Slate awarded its Cartoonist Studio Prize, calling it "a deadpan epic."
Nemeses! Dragons! Science! Symbolism! All these and more await in this brilliantly subversive, sharply irreverent epic from Noelle Stevenson. Featuring an exclusive epilogue not seen in the web comic, along with bonus conceptual sketches and revised pages throughout, this gorgeous full-color graphic novel is perfect for the legions of fans of the web comic and is sure to win Noelle many new ones.
Nimona is an impulsive young shapeshifter with a knack for villainy. Lord Ballister Blackheart is a villain with a vendetta. As sidekick and supervillain, Nimona and Lord Blackheart are about to wreak some serious havoc. Their mission: prove to the kingdom that Sir Ambrosius Goldenloin and his buddies at the Institution of Law Enforcement and Heroics aren't the heroes everyone thinks they are.
But as small acts of mischief escalate into a vicious battle, Lord Blackheart realizes that Nimona's powers are as murky and mysterious as her past. And her unpredictable wild side might be more dangerous than he is willing to admit. (courtesy of Goodreads)
Review
Nimona
is an excellent example why I need to read more western style graphic novels. It has everything you can want in a story. Simple yet expressive art. Hilarity. Emotion. Plus a twist on the hero / villain trope.
Nimona is a mystery character who shows up in the life of supervillain Lord Blackheart and volunteers herself as his new sidekick. She proves incredibly useful as a shapeshifter who can instantly transform into any creature. It's hard to trust her, because her story keeps changing, but it's impossible to dislike her. She has a passion for violence yet also seems perky and girlish. As is often the case though, this glib nature hides a troubled side.
Lord Blackheart is not the stereotypical supervillain. He's been placed into this role by society, but doesn't have the desire to do evil at all. More to thwart the system. Similarly hero Goldenloin is not a perfect hero. He doesn't wish to conquer the supervillain. He feels more like a reluctant government employee shoved into a role. More interesting is the relationship between Lord Blackheart and Goldenloin, who were once friends and don't desire to hurt one another at all.
This is very much a girl power novel. Nimona and Blackheart appear to form a father/daughter relationship, but it's much more a relationship of equals, or perhaps with Nimona as the superior. Nimona's near unstoppable power and thirst for violence/justice/redemption makes her a force that no one can control. What Blackheart tries to do is to show her that the world isn't black and white, but many shades of gray. He seems to succeed in that, but she also teaches him as well.
It's easy to speed through this novel. I really want to go back and focus on the details. The dialogue is often hilarious, particularly between Nimona and Blackheart. The ending is emotionally powerful and bittersweet.
I'm not sure whether
Nimona
is a stand-alone or not. My impression is that it is stand-alone, although a sequel could be possible. I'd love to read more about Nimona, Blackheart, and Goldenloin but it's hard to top a near perfect graphic novel. Loved this.
Sign up for the Manga Mondays Meme!