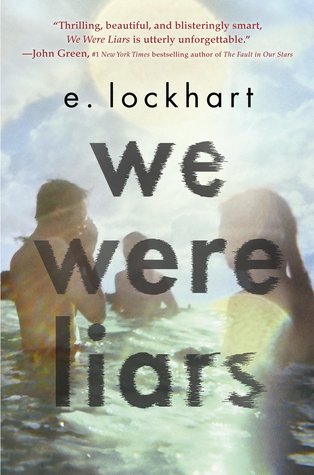 We Were Liars by E. Lockhart

Release Date:
May 13, 2014

Publisher:
Delacorte Press
Source
: Purchased
Summary
A beautiful and distinguished family.
A private island.
A brilliant, damaged girl; a passionate, political boy.
A group of four friends—the Liars—whose friendship turns destructive.
A revolution. An accident. A secret.
Lies upon lies.
True love.
The truth.
We Were Liars is a modern, sophisticated suspense novel from National Book Award finalist and Printz Award honoree E. Lockhart.
Read it.
And if anyone asks you how it ends, just LIE.(courtesy of Goodreads)
Review
How do you write a review for a book that is best read knowing as little about it as possible? I rarely go into a book totally blind. I read reviews and I at least read the synopsis. I didn't do that with
We Were Liars
. The buzz I heard from everyone about this book is to go in knowing nothing. And that's what I'm recommending you do too.
Everyone who talks about
We Were Liars
mentions that it shocks you. It's a puzzle. It certainly shocked me. But I think it's a wonderful book even without the shocking elements. It's a family drama, about people with too much money and too many problems. It's also a tale about love and friendship, at its best and at its worst. And it does a wonderful job at describing life on the islands off the coast of Massachusetts, a place that's always intrigued me.
The writing style is fantastic. The words are spare and somewhat impersonal, but still manage to draw in the reader. It's a very short book and made even shorter, because the prose flies by.
The last portion of the book is just as shocking as I heard. I read it on the plane to New York for BEA. I was sobbing for about the last 40 pages. These were sloppy tears. I was crying so much that I couldn't see the screen. I had to keep wiping my face to continue reading. I was lucky that the guy on the plane next to me was sleeping, because he would have thought I was insane. I get teary at books relatively often, but it's very rare that I cry to that degree.
If I Stay
and
Time Traveler's Wife
are the last two I remember breaking down over (Oh, and
Marley & Me
).
Read
We Were Liars
. Don't look up anything about it. I don't even mind if you don't read my cursory review (well, I do mind a little). Just pick it up. It's a beautiful, heart-breaking book that stays with you long after you finish the last page.
Rating: 5 / 5
Here's How to Buy the Book!