*While I'm in Europe - It's my last full day in Europe! I'm in Barcelona - I've lined up some fabulous guest posters. Please welcome Nereyda from Mostly Book Obsessed!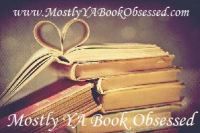 I'm just another person that is obsessed with books. Seriously, liked obsessed! I'm 26 years old, I have WAY too many favorite books to name but some of my favorite authors include Richelle Mead, Rachel Gibson, Becca Fitzpatrick, Cassandra Claire, Chloe Neill, Jennifer L. Armentrout and Jana Oliver. My favorite colors are black and pink and I love anything sparkly. I LOVE using caps locks and exclamation points! I LOVE to read and listen to music and I am addicted to Amazon. I would LOVE to have a library like in Beauty and the Beast!
When I first really got into reading 3-4 years ago, I HATED love triangles. Like with a passion! I always knew who I wanted the main character to end up with and I hated the other character. But, I've noticed that recently the love triangles are really starting to get to me. Some books have both love interest so damn good that I am completely torn up inside who I want the main character to end up with and will most likely change from chapter to chapter or book to book.
The first book that really made me think about love triangles was Spirit Bound by Richelle Mead. Of course I wanted Rose to end up with Dimitri (duh!), but each time Adrian showed up, he stole another little piece of me. I love the outcome of Last Sacrifice and I am excited to get to read more about Adrian in the new Bloodlines series.
Here is a list of the top 3 love triangles that have me so conflicted:
---
Seth/Aiden from the Covenant series by Jennifer L. Armentrout
At first I was totally team Aiden…and then Seth showed up. I liked him right away and by the end of book two I was a total goner. I am now Team Seth but there are snippets where Aiden will sneak up on me. But I still want Alex to end up with Seth. Who knows if this will still be true after I read Deity…
Xander/Kyle from the Matched series by Ally Condie
This is another one of those rare books where I still don't know if I want Cassia to end up with Kyle or Xander. I really like Kyle but I think that the scenes between Cassia and Xander have more chemistry and definitely more angst.
Jay/Rafe from The Body Finder series by Kimberly Derting
In The Body Finder I was totally, head over heels in love with Jay. He was just the sweetest guy ever and I was a little annoyed when Rafe showed up in book two and I wanted him to go away. But in the third book I felt so conflicted because I was really starting to like Rafe. Plus his chemistry and tension with Violet was intense. But at the same time, I was upset because Jay hardly came out in the third book. I'm still hoping for Jay and Violet though.
---
Which are your favorite love triangles and which ones do you hate? Let me know in the comments…