The Invention of Hugo Cabret by Brian Selznick
March 1, 2007; Scholastic Inc.
Summary
ORPHAN, CLOCK KEEPER, AND THIEF, Hugo lives in the walls of a busy Paris train station, where his survival depends on secrets and anonymity. But when his world suddenly interlocks with an eccentric, bookish girl and a bitter old man who runs a toy booth in the station, Hugo's undercover life, and his most precious secret, are put in jeopardy. A cryptic drawing, a treasured notebook, a stolen key, a mechanical man, and a hidden message from Hugo's dead father form the backbone of this intricate, tender, and spellbinding mystery.(courtesy of Goodreads)
Review
Brian Selznick has revolutionized children's literature with
The Invention of Hugo Cabret
. Traditionally, children leave the world of picture books behind once they begin reading.
The Invention of Hugo Cabret
mashes together a story told only in pictures with a traditional mid-level children's novel.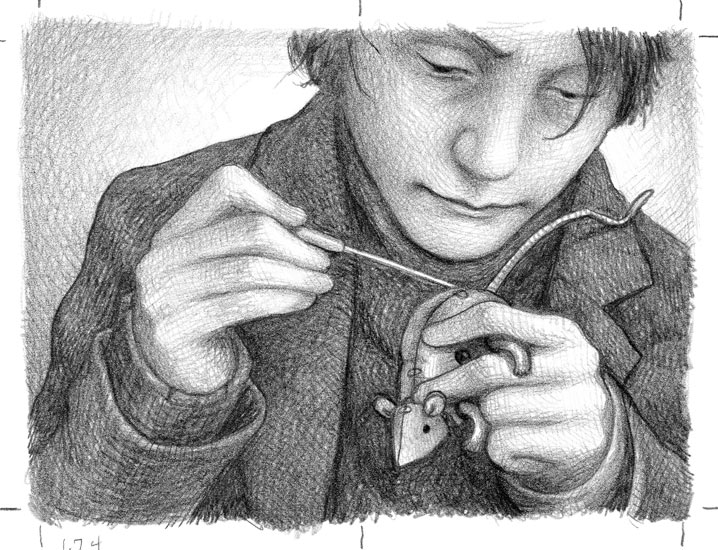 The drawings are simply amazing. They take up half the book. They truly epitomize the idea that a picture is worth a thousand words. Instead of illustrating written words, the drawings themselves furthered the plot. I love how the drawings were often very similar, but just different enough to show movement or a change in emotion. The subtle changes created a smoothly flowing plot. Selznick did a wonderful job in showing happiness, sadness, fear, and every other emotion on the characters' faces. Each drawing was amazingly complex. I would like to take the time to really focus on each page. When I read the book, I flipped through the illustrations quickly, only focusing on what furthered the storyline, but there are so many details in each page spread, that I could easily spend several minutes analyzing every drawing.
The written portion of Hugo is also endearing, but doesn't break any new ground. It follows common themes of many children's stories. Orphan, great adventure, danger, friends. Hugo lives in a train station and makes sure the station's clocks are set to current time. A unique setting if ever there was one. He is trying to fix the automaton (kind of a wind up robot) that his father was working on when he died. Hugo's world changes when he runs into a cranky toyseller and his god-daughter Isabel.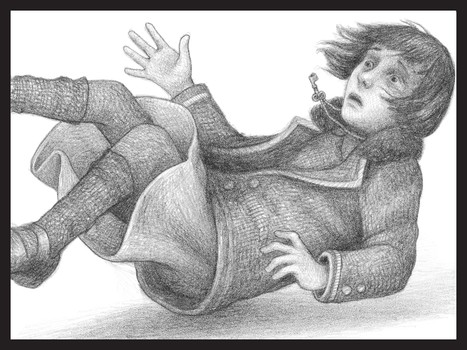 I loved Papa Georges, the toyseller. He had a hard, somewhat mean exterior, but you could see - both through the drawings and the written words - that he had a good heart and was trying to help Hugo. Isabel clearly loved him. Isabel was another fun character. On the surface, she was a bookish, quiet girl, but as we got to know her better, she seemed stubborn, sneaky, and a little arrogant. She might have been annoying in real life, but she functioned perfectly in this story. Hugo is your classic boy character. Kind, hard-working, mischievous, and determined. He had a goal in mind and refused to let his age, parentless status, or lack of resources stop him.
The story had lots of twists and turns that I didn't expect, although the ultimate ending wasn't that surprising. There were also a lot of coincidences. Too many to be even remotely believable. I wish the book - especially the drawings - had taken better advantage of its setting and time period. We got to know a little about the 1920s/1930s through learning about the silent film industry, but otherwise, it didn't feel like the 1930s. Similarly, there was no exploration of the wonders of Paris. It could have been set in New York City, Berlin, London, or any other big city. Paris is necessary for certain plot reasons, but certainly could have been portrayed more richly.
While not a perfect written story, I recommend that everyone pick up
The Invention of Hugo Cabret
. Despite its large size, you can read this giant book in just a few hours. The story is charming. But it's the drawings you'll remember. They add a richness to the book that words could never convey.
Rating: 4 / 5