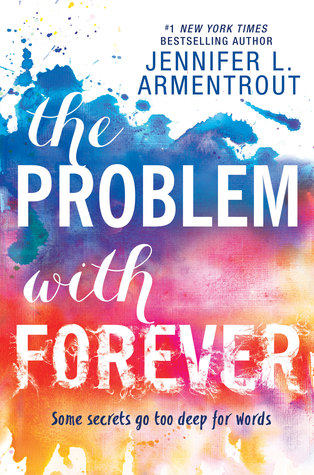 The Problem with Forever by Jennifer L. Armentrout

Release Date:
May 17, 2016

Publisher:
Harlequin Teen
Source
: Library
Summary
For some people, silence is a weapon. For Mallory "Mouse" Dodge, it's a shield. Growing up, she learned that the best way to survive was to say nothing. And even though it's been four years since her nightmare ended, she's beginning to worry that the fear that holds her back will last a lifetime.
Now, after years of homeschooling with loving adoptive parents, Mallory must face a new milestone—spending her senior year at public high school. But of all the terrifying and exhilarating scenarios she's imagined, there's one she never dreamed of—that she'd run into Rider Stark, the friend and protector she hasn't seen since childhood, on her very first day.
It doesn't take long for Mallory to realize that the connection she shared with Rider never really faded. Yet the deeper their bond grows, the more it becomes apparent that she's not the only one grappling with the lingering scars from the past. And as she watches Rider's life spiral out of control, Mallory faces a choice between staying silent and speaking out—for the people she loves, the life she wants, and the truths that need to be heard. (courtesy of Goodreads)
Review
Do you ever have those books that you know are objectively great, but just don't work for you? The Problem with Forever was basically that for me. I liked the book, I really did. But it was not the type of book that I generally enjoy. The good things about this story are that it's a fun, edgy contemporary romance about two characters with a shared dark past.
Mallory was so traumatized by her abusive foster home that she barely speaks. She was adopted by kind, wealthy parents when she was 13 and has had extensive therapy to make up for it. Armentrout does a good job of showing Mallory's hesitant speech through pauses and ellipses. I appreciated the reality of Mallory's difficulties in speaking, but it did make it annoying to read through her very slow speaking moments.
I loved Carl and Rosa, Mallory's adoptive parents. They were positive forces in her life and as present as they could be with their busy schedules. I always love seeing good parents in YA. The bad things about them was that Carl was overly protective of Mallory when it came to Rider. His aggressive dislike is eventually explained, but it colored his character in a way that made him feel one-sided. Also, they were both really busy doctors and I wonder if they could have realistically handled a traumatized teenager.
Rider is dark, sexy, and handsome. He was Mallory's childhood protector and is determined to be so again. He is basically the popular trope of edge, Alpha, damaged male romantic hero. This happens to be a character trope I strongly dislike. Not that it's bad, but that it's not what attracts me. So I never got into Rider - which meant I couldn't get into the romance.
I do like that Mallory slowly changes throughout the novel. She learns to stick up for herself and to have a voice. She is not just the quiet, damaged Mouse that she once was. It makes for a good character arc. I also like how the other characters in the book have to react to Mallory's adjustment.
I enjoyed the side characters of Ainsley, Hector, and Jaden. I did feel like they were undeveloped though. Ainsley is the chirpy best friend who has a problem that serves to further Mallory's character growth. Jaden is the bad kid with a naive heart of gold. Hector is the hard working poor kid, although he wasn't developed enough for me to really have a good idea of what makes him tick.
If you're looking for steamy YA romance, you'll definitely get it here. The hot moments between Rider and Mallory start relatively early in the novel (in the sense that it's not just at the end). Since I didn't care for the romance, the steamy scenes weren't for me, but they were well written and will be enjoyed by many.
Ultimately, this was not the kind of book that I like, but it was able to capture my interest enough to finish it. Of the three Jennifer Armentrout books, I've read, I think it was the best written. If you go for edgy romances like Katie McGarry or Simone Elkeles, you'll love this book.
Recommendation: Buy if you love edgy YA romance. Skip otherwise.