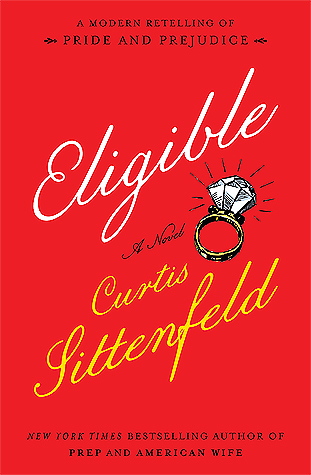 Eligible by Curtis Sittenfeld

Release Date:
April 19, 2016

Publisher:
Random House
Source
: Library
Summary
A Modern Retelling of Pride and Prejudice
This version of the Bennet family—and Mr. Darcy—is one that you have and haven't met before: Liz is a magazine writer in her late thirties who, like her yoga instructor older sister, Jane, lives in New York City. When their father has a health scare, they return to their childhood home in Cincinnati to help—and discover that the sprawling Tudor they grew up in is crumbling and the family is in disarray.
Youngest sisters Kitty and Lydia are too busy with their CrossFit workouts and Paleo diets to get jobs. Mary, the middle sister, is earning her third online master's degree and barely leaves her room, except for those mysterious Tuesday-night outings she won't discuss. And Mrs. Bennet has one thing on her mind: how to marry off her daughters, especially as Jane's fortieth birthday fast approaches.
Enter Chip Bingley, a handsome new-in-town doctor who recently appeared on the juggernaut reality TV dating show Eligible. At a Fourth of July barbecue, Chip takes an immediate interest in Jane, but Chip's friend neurosurgeon Fitzwilliam Darcy reveals himself to Liz to be much less charming. . . .
And yet, first impressions can be deceiving. (courtesy of Goodreads)
Review
A modern version of Pride and Prejudice, you say? Count me in. Curtis Sittenfeld is a well respected American author. I tried reading her first book years ago and couldn't get through it. After reading Eligible, I want to go back and read all of her books. I really like her style.
This book has been skewered by many of the high fallutin' reviewers, like The New York Times. And I think I get why. It has none of the subtle social commentary of Pride and Prejudice. In fact, there's nothing subtle about this. The characters are big, loud, and often crass.
It's basically very loud social commentary. Lydia and Kitty make constant sex and bathroom jokes and obsess over cross-fit. Mrs. Bennet is racist and homophobic. Bingley is from a reality show. Essentially, it incorporates many of the lower elements of American society that many readers turn to books to avoid.
All that said...I so loved this. It's not a classic in the way that Pride and Prejudice is, but it is so much fun. I loved seeing how Ms. Sittenfeld took the essential characteristics of each person and created a modern character. I loved how the plot elements were changed and kept the same to fit into the reality of modern American life.
I didn't necessarily like the characters as much. Nor would I have made the same choices if I was the author. The modern Liz was more gossipy and judgmental than the original Lizzie. Both Mr. Bennet and Dary came off somewhat meaner than the original counterparts. Even if I didn't agree with all the changes, I understand why they were done, and I admire Ms. Sittenfeld's bravery for pushing her characters.
As I'm writing this review, I feel like I'm coming up with more criticism than compliments - both on the screen and in my head. While the criticisms are deserved, I really don't care. This was such a fun book. It was solid, well-written, and the pages flew by. I think any Pride and Prejudice fan - especially if you liked The Lizzie Bennet Diaries - who is willing to be open-minded of a modern interpretation, will love this story.
Recommendation: A must for Pride & Prejudice fans.