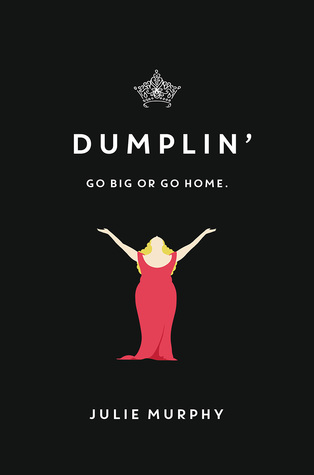 Dumplin' by Julie Murphy

Release Date:
September 15, 2015

Publisher:
Balzer + Bray
Source
: Library
Summary
Self-proclaimed fat girl Willowdean Dickson (dubbed "Dumplin'" by her former beauty queen mom) has always been at home in her own skin. Her thoughts on having the ultimate bikini body? Put a bikini on your body. With her all-American beauty best friend, Ellen, by her side, things have always worked…until Will takes a job at Harpy's, the local fast-food joint. There she meets Private School Bo, a hot former jock. Will isn't surprised to find herself attracted to Bo. But she is surprised when he seems to like her back.
Instead of finding new heights of self-assurance in her relationship with Bo, Will starts to doubt herself. So she sets out to take back her confidence by doing the most horrifying thing she can imagine: entering the Miss Clover City beauty pageant—along with several other unlikely candidates—to show the world that she deserves to be up there as much as any twiggy girl does. Along the way, she'll shock the hell out of Clover City—and maybe herself most of all.
With starry Texas nights, red candy suckers, Dolly Parton songs, and a wildly unforgettable heroine—Dumplin' is guaranteed to steal your heart.(courtesy of Goodreads)
Review
This book has gotten rave reviews from basically everyone. I'm happy to say that I'm joining the crowd. Always wonderful when a book lives up to the hype.
People are especially thrilled about the body positive image portrayed in this book. I think that's great, but I like the book because it's fun, realistic, and substantive. The characters, even the side characters, are well developed. The story is always interesting, has several compelling side plots, and develops in a basically realistic way.
Willowdean is a wonderful main character. At first glance, she looks like she's going to be a one-dimensional go-getter type, but she becomes much more complex as the book goes on. Willowdean is definitely very confident. Not in a perky cheerleader way. She's more the type that pushes through no matter what somebody says and has an attitude that assumes things will work out.
However, Willowdean is far less secure than she initially appears. And she is surprised most of all. She isn't nearly as comfortable about her body as she tells herself she is. Why would she be when so many people - especially her mother - looks at her with disdain. She also is unsure about her place in the social hierarchy, which leads to conflict with her best friend and reluctance to make new friends with the "loser kids."
I loved Willowdean's "loser friends." I definitely related to Willowdean's reluctance to lower herself even further down the social ladder - however shallow that is - as well as how these people can often end up being nicer, more fun, and more reliable. Millie is much more overweight than Willowdean and lacks her confidence. But she is endlessly cheery and dresses without shame in girly colors and cutesy prints. Amanda is Millie's best friend who has a disability with her feet; she is bawdy and boy-crazy. Then there's the dour girl who's name I've forgotten. She has more of the goth, angry vibe, but I really liked her dark humor once you get throw her hard shell. These girls are a lot more interesting than Ellen, Willowdean's generic best friend.
The story goes in lots of different directions. Willowdean is grieving the loss of her aunt Lucy, with whom she had a much better relationship than with her mother. She's being pursued by not one but two boys and has to learn how to manage all that drama. Willowdean also makes new friends and decide whether she can keep the old. Plus she joins the pageant, which is a big part of the last half of the book more of a plot device than an integral part of the story.
I really loved this book. Arguably, it was a little predictable and a but too sunny. However, everything felt like something that could reasonably happen. Most importantly, Willowdean was a pleasure to spend 400 pages with and I wish I knew her in real life. Oh - and there's lots of Dolly Parton goodness!
Recommendation: Definitely buy!
Here's How to Buy the Book!