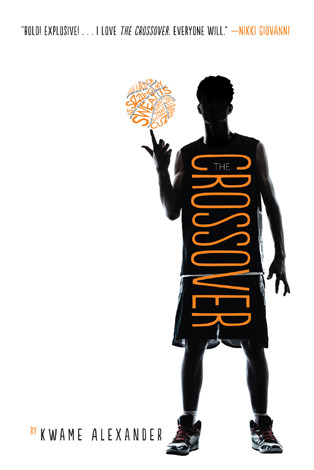 The Crossover by Kwame Alexander

Release Date:
March 18, 2014

Publisher:
Harcourt Brace and Company
Source
: Library
Summary
"With a bolt of lightning on my kicks . . .The court is SIZZLING. My sweat is DRIZZLING. Stop all that quivering. Cuz tonight I'm delivering," announces dread-locked, 12-year old Josh Bell. He and his twin brother Jordan are awesome on the court. But Josh has more than basketball in his blood, he's got mad beats, too, that tell his family's story in verse, in this fast and furious middle grade novel of family and brotherhood.
Josh and Jordan must come to grips with growing up on and off the court to realize breaking the rules comes at a terrible price, as their story's heart-stopping climax proves a game-changer for the entire family. (courtesy of Goodreads)
Review
I first heard of
The Crossover
when it won the Newbery Award earlier this year. I didn't think any book had a chance of beating
Brown Girl Dreaming
, so I had to read it.
This is another novel told in verse. Not just verse. The way the words are laid out, the letter zing off the page. I read it more in the rhythm of rap than poetry (although rap is a form of poetry), which is how I imagine Josh, the main character, would want it to be read.
The book starts off with a swagger. You can feel it in the way its written. Josh is a young boy who knows who he is and how his world runs, and it's all fabulous. The swagger decreases as the book goes on and Josh's world changes and threatens to fall apart.
Here's the first page/poem:
Dribbling
At the top of the key, I'm
MOVING & GROOVING,
POPping and
ROCKING
—
Why you BUMPING?
Why you LOCKING?
Man, take this THUMPING.
Be careful though,
'cause now I'm CRUNKing
Criss
CROSSING
FLOSSING
flipping
and my dipping will leave you
S
L
I
P
P
I
N
G on the floor, while I
SWOOP in
to the
finish
with a
fierce finger
roll . . .
Straight in the hole:
Swoooooooooooosh.
Josh is defined by his love for basketball and his family. He has a huge talent for basketball, and he knows it. He worships his dad who pushes him pretty hard in basketball, but Josh seems very receptive. He has a typical tween annoyance at his caring mother who pushes him to be responsible and focused on school, but you can tell that he secretly appreciates what she does. He views his twin brother Jordan as an extension of himself, which is why he has such a hard time adjusting to the fact that Jordan is now more interested in a girl than basketball.
This book is really about change. Josh has to learn how to find a new equilibrium with his brother no longer thinking identically as him. He also comes to understand that his hero dad is a person with flaws and fears that can have consequences Josh can't control. Josh doesn't always react well to these changes in his life, but I loved seeing how he evolved over the course of the book and I got a glimpse of the good man that he will become some day.
I think this book deserved to win the Newbery Award. Is it as good as Brown Girl Dreaming? No, not really. Don't get me wrong - it's wonderful and heart-wrenching. But
Brown Girl Dreaming
has already gotten loads of accolades (all deserved).
The Crossover
is also a wonderful book that deserves recognition. It's an artfully done book that is as good at substance as it is pretty prose.
Recommendation: Total Buy!
Here's How to Buy the Book!