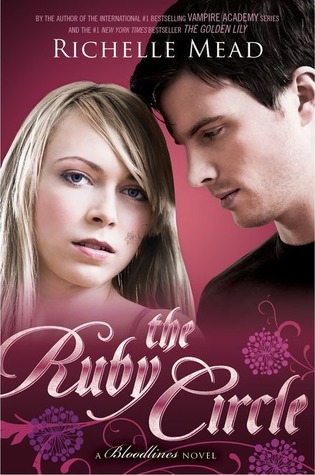 Ruby Circle by Richelle Mead

Release Date:
February 10, 2015

Publisher:
Razorbill
Source
: Purchased
Summary
After their secret romance is exposed, Sydney and Adrian find themselves facing the wrath of both the Alchemists and the Moroi in this electrifying conclusion to Richelle Mead's New York Times bestselling Bloodlines series. When the life of someone they both love is put on the line, Sydney risks everything to hunt down a deadly former nemesis. Meanwhile, Adrian becomes enmeshed in a puzzle that could hold the key to a shocking secret about spirit magic, a secret that could shake the entire Moroi world.(courtesy of Goodreads)
Review
Bye bye Bloodlines! Always sad to see a beloved series end, especially one as long and wonderful as Bloodlines. Was Ruby Circle a worthy end to the series? I think it was.
My favorite book in the series is still probably the first book. Or maybe the second. I loved the focus on the boarding school setting and the tension between Sydney and Adrian. The story has evolved since then and wasn't about school at all. This was a mad dash journey to save Jill that had all sorts of adventures and dangers along the way. Even though I miss the way the series started out, I think the plot did an excellent job of evolving. I basically plotted out the entire series after Book 1, but Richelle did manage to get in a few surprises.
One oddity was some subtle similarities to Breaking Dawn. I feel like Richelle was getting in a private joke. Nothing felt out of place with the plot, but it was obvious enough that I feel like it had to be on purpose.
Sydney and Adrian in Book 6 are very different people than in Book 1. They've grown up. I miss the people that they were early on. They were a lot funnier and quirkier. On the other hand, both characters are better people. Sydney is now open-minded and adaptable. Adrian is more controlled and a lot more mature. They are less caricatures now than they once were, even if I did somewhat enjoy the caricatures more.
It took me quite a while to get into this book. What I really need to do is read the entire series back to back. I did that with Vampire Academy once and it made the series so much more fun. I think I'd be more invested in the story and have an easier time remembering all the characters if there hadn't been months between reading this book and the previous one.
As you'd expect with Book 6, this book was a callback to all the characters in the series. Everyone made at least a brief appearance. I particularly liked how involved Rose and Dmitry were in the story. I like Sydrian better than Rosmitry but it's ideal having all four roaming the country together.
A really good ending to a much loved series. Even though it did take awhile to get hooked, I definitely was glued to the pages for the last 50% of the book. I feel like Sydrian's story is summed up, but I do see several options for another series in the same world. We shall see.
Recommendation: Buy if you're a Bloodlines fan
Here's How to Buy the Book!