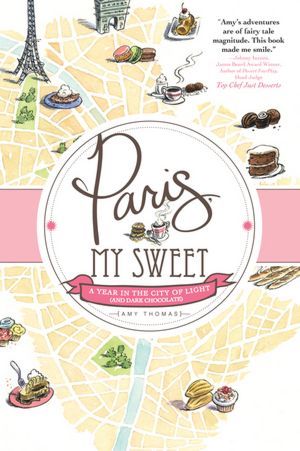 Paris, My Sweet: A Year in the City of Light (and Dark Chocolate) by Amy Thomas

Release Date:
February 1, 2012

Publisher:
Sourcebooks
Source
: BEA
Summary
Part love letter to New York, part love letter to Paris, and total devotion to all things sweet. Paris, My Sweet is a personal and moveable feast that's a treasure map for anyone who loves fresh cupcakes and fine chocolate, New York and Paris, and life in general. It's about how the search for happiness can be as fleeting as a sliver of cheesecake and about how the life you're meant to live doesn't always taste like the one you envisioned. Organized into a baker's dozen of delicacies (and the adventures they inspired) that will tempt readers' appetites, Paris, My Sweet is something to savor. (courtesy of Goodreads)
Review
On a list of my favorite things you'd find: Desserts, chocolate, Paris, and New York. A book that covers four of my favorite things? Priceless. Paris, My Sweet was exactly the book for me. I've had it on my shelf for years and am sad it took me this long to pick up.
A few highlights:
1.
Paris
- The title says it all. I just got back from Paris. It was my second trip, and it's definitely one of my favorite cities in the world. I loved re-exploring Paris with Amy. I loved seeing sides of Paris I didn't see - the working world and the long term resident's world. I've always enjoyed expat's stories. It was fascinating to see the fun of living in a foreign country and also the things that frustrate outsiders.
2.
New York
- This book is also a love story for New York, which is the city Amy lives in when she's not living in Paris. This explores lots of great restaurants and foods of New York. I've never lived in New York, but I've visited enough that much of this book felt like delicious nostalgia.
3.
The Sweets
- Yum! The main thing I regret from our Paris trip was not eating enough good desserts. Amy's memoir gives a great overview of quintessential Parisian desserts and even cupcakes, which became a hot Paris thing. The book made me hungry and also served as a great guidebook for the next time I'm in Paris and New York. I had tried a few of the places she mentioned, which made the book even more fun.
4.
Amy
- Amy and I have lived different lives in many ways, but I saw a lot of myself in her. This book chronicles Amy's years in France. It also chronicles the life of a woman in her mid-30s who is contemplating her future and how it feels seeing her friends getting married and having children without her. It transformed the book from a travelogue to something more thoughtful.
5.
The Writing
- The book was fast paced and flowed well. Each chapter centered on a different kind of food. Amy did a great job of making the food somehow seem relevant to whatever was going on in her life at the time. My only complaint was that she used many French phrases throughout the book without translating them or providing a glossary. You could often figure them out from context, but it was frustrating. Otherwise, this was a terrific book that I recommend to any travel and/or food lover.
Recommendation: Absolutely buy!