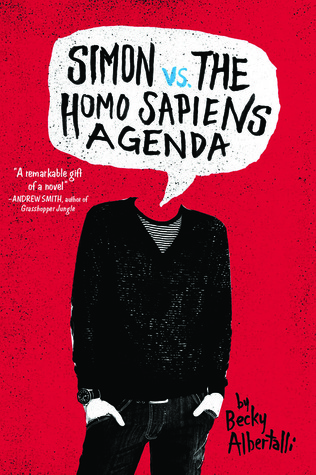 Simon vs. the Homo Sapiens Agenda by Becky Albertalli

Release Date:
April 7, 2015

Publisher:
Balzer + Bray
Source
: Library
Summary
Sixteen-year-old and not-so-openly gay Simon Spier prefers to save his drama for the school musical. But when an email falls into the wrong hands, his secret is at risk of being thrust into the spotlight. Now Simon is actually being blackmailed: if he doesn't play wingman for class clown Martin, his sexual identity will become everyone's business. Worse, the privacy of Blue, the pen name of the boy he's been emailing, will be compromised.
With some messy dynamics emerging in his once tight-knit group of friends, and his email correspondence with Blue growing more flirtatious every day, Simon's junior year has suddenly gotten all kinds of complicated. Now, change-averse Simon has to find a way to step out of his comfort zone before he's pushed out—without alienating his friends, compromising himself, or fumbling a shot at happiness with the most confusing, adorable guy he's never met.(courtesy of Goodreads)
Review
This novel has the "It" factor - that indefinable thing that makes every page zing as it goes by. It is the perfect mixture of sweetness, substantive discussion of the difficulties of being a gay teenager and just a teenager, hilarity, and general fun. It is an issues book that entertains without preaching.
My Top Five:
1.
Simon
- Someone I'd love to be friends with. A really nice guy, who doesn't always do the best thing but generally means to. Funny, awkward, geeky, romantic. What more can you want?
2.
Simon's Friends and Family
- Well rounded characters. Even those with little page time. Simon has healthy relationships with all of them, although everyone has ups and downs throughout the book. I particularly like that he has a close-knit family, which is often lacking in YA.
3.
Simon and Blue
- Their emails were a highlight of the book. Funny and flirty. They managed to unveil their true selves to each other and to the reader. It was a great example of how one's inner self is both different and similar to how one acts in public.
4.
Blackmail
- A great plot element, although it was awful for Simon. I loved that the blackmailer was a three dimensional character. His actions were reprehensible, but I also sorta understood why he did it.
5.
Happy Book, Happy Ending
- This is a great read if you're looking for a positive story. Even though Simon is being blackmailed and has to deal with coming out, the tone is always uplifting. Simon has a good life, with supportive people, and that will hopefully always be so. Plus, the ending is squeal-worthy!
Recommendation: Buy, buy, absolutely buy!